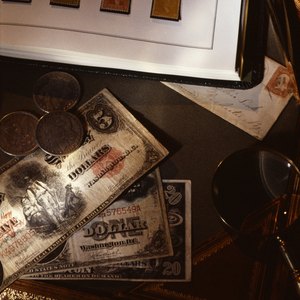 •••
Jupiterimages/Photos.com/Getty Images
To commemorate the 50th anniversary of the All-Star Game, the U.S. Postal Service honored Babe Ruth with a 20-cent stamp on July 6, 1983. With a total of 184,950,000 stamps issued, the Babe Ruth 20-cent stamp is not exactly rare, but has become a collector's item for stamp enthusiasts as well as fans of sports memorabilia. The value depends on both the condition and the format in which the stamp appears.
Single Sheets
The stamp's worth depends on the format and condition. Collectors will pay more for uncanceled stamps. In September 2013, the Mystic Stamp Company listed single Babe Ruth 20-cent stamps for $1.25 new and 25 cents used. A single sheet includes 20 stamps, with a face value of $4. If in mint condition, these sheets may sell for two to three times their face value.
Plate Blocks and First-Day Covers
A plate block of four or more attached stamps is a common collector's item; the block carries a number identifying the printing plate used to produce the stamp. As of October 2013, four-stamp Babe Ruth plate blocks were listed on eBay for $4.50. First-day covers are envelopes carrying stamps canceled on the first date of issue. These run $5 to $10, more if the cover is framed.
Cachets
To raise money, the post office sells a new stamp in commemorative frames and "cachets." A cachet is an envelope carrying the image of a particular stamp. Collectors seek out these items for display as well as trading. The Babe Ruth cachet alone runs around $5 to $10, while a framed cachet is worth quite a bit more.
Other Collectibles
The image and autograph of Babe Ruth has made its way onto many other interesting collector's items, including a tiny (1-by-1.5-inch) 1939 stamp commemorating the centennial of baseball. Signed by Babe Ruth, a block of four sold at auction in 2001 for $1,814. Ten years later, a single version also carrying Ruth's signature went for $3,312 through Mears Online Auctions.
References
Writer Bio
Founder/president of the innovative reference publisher The Archive LLC, Tom Streissguth has been a self-employed business owner, independent bookseller and freelance author in the school/library market. Holding a bachelor's degree from Yale, Streissguth has published more than 100 works of history, biography, current affairs and geography for young readers.