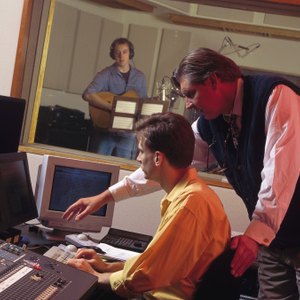 •••
Comstock/Comstock/Getty Images
Though the salaries and lifestyles of the artists they produce are more publicized, music chief executives live similarly glamorous lifestyles and may earn as much money if not more. Noteable music chief executives include Clive Davis, Sean Combs and Jay Z, who earn millions of dollars annually and are featured regularly in Forbes magazine for the highest earners in entertainment.
How They Earn Their Salary
Music chief executives can range from those who are involved in the making of records such as Clive Davis and Sean Combs to those who oversee the entire operations of a music company, such as newly appointed (as of June 2011) Universal Music Group chief executive Lucian Grange. Some oversee music advocacy organizations such as the Recording Industry Association of America and NARAS (the National Association for Recording Arts and Sciences). Music chief executives are responsible for increasing revenues and often receive million-dollar salaries for their work. Their work includes finding new ways to promote artists (ringtones, video games, commercials), generating new revenue sources for music, and lobbying via politics to protect the rights of artists, which includes, as an example, being paid for Internet radio airplay.
Typical Salary
An August 2008 article for "Digital News" notes the salaries of Mitch Bailwol, chairman and chief executive officer for the RIAA and president Cary Sherman. Baiwol earned approximately $1.5 million as of 2006 while Sherman earned approximately $974,000, according to the article. Despite a 51 percent pay cut, Warner Music Group chief executive Edgar Bronfman earned $3.42 million as of 2008, according to an article in the "Los Angeles Times" in that same year. Music insider Ritch Esra, in his 2005 article for "Satellite Radio Review," said salaries for music chief executives ranged between $200,000 and $500,000 in the mid '80s and are more than 10 times these amounts in the 21st century.
The Musical Type
The advent of musical artists becoming music executives and the heads of their on labels has created multimillion dollar empires for several of the music industry's top executives. Musical artists such as Jay Z, Sean Combs and Doug Morris, a former songwriter and chief music executive at Universal Music Group (as of 2011, the new chief executive of Sony Music) have become high-profile, top-earning executives. The earnings of Combs and Jay-Z are estimated at over $400 million, according to a March 2011 "Forbes" magazine article on hip-hop's wealthiest. Both receive significant revenues from other ventures such as clothing lines, merchandising and from their work as musical artists, in addition to multimillion dollar salaries as music executives. Morris is no longer an artist but received nearly $20 million as of 2005 as chief executive of Universal, according to High Beam Research.
Chairmen
While music chief executives who are chairmen earn multi-million dollar salaries, they frequently are replaced only to work in these same positions at other labels. Former Island Def Jam chairman L.A. Reid joins Sony Music as of July 1, 2011. His exiting salary at Island Def Jam in 2010 was reported at $8 million annually, according to Ybf.com. After stints at Columbia and Arista, legendary music executive Clive Davis became the chairman of BMG Music Group in 2004 only to be replaced in 2008 by Barry Weiss. Davis is the group's chief creative officer, as of 2011. Though no salary information is available for Davis in this position, he earned $4 million in his new role as founder and chief executive of J Records in 2001.
References
Writer Bio
Leonard Dozier is a freelance writer based in southern New Jersey and New York. His film and sports columns have been published by "Casino Connection Magazine" and Trev Rogers sports respectively. A prolific and extremely versatile writer, he is an ASCAP songwriter and has written screenplays and stage plays registered with the Writer's Guild of America.