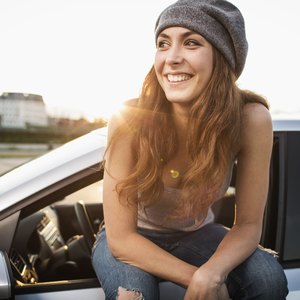 •••
Markus Bernhard/Taxi/GettyImages
Low-income college students needing transportation have several options. Grant money is available in the form of federal grants, state grants and grants from nonprofit organizations. Although the federal and state grants are not specific to the purchase of an automobile, if it is considered a school-related expense, then grant funds can be used. Applying for grant money can be as simple as filling out an application, making a phone call or as complicated as putting together a grant proposal. The application process depends on the type of grant being applied for and the organization funding the grant.
Federal Grant Programs
Students can apply for federal grant money by filling out the FAFSA form in January of the year they plan to enter college. The FASFA, Free Application for Student Aid, is an all-inclusive application that determines your eligibility for scholarships, grants and government loans based on income and your family's ability to pay for college and related expenses.
There are several types of grants associated with the FAFSA, and each has a different award amount. Students can request additional grant monies for school-related expenses. These expenses can include the purchase of a low-cost vehicle depending on the student's need.
State Grant Programs
College grants are available to low-income students at the state level and can be applied for directly or through the college of your choice. These grants are similar to federal grants in how they are disbursed. State grants go directly to the institution of your choice, and once all funds are disbursed from grants, loans and scholarships, the remaining funds are returned to the student in the form of a check. These remaining funds can be used for the purchase of a car if it is an educationally related expense.
Nonprofit Auto Charities
Locally-owned nonprofit auto charities exist to provide low-cost transportation options to low-income families. This is an alternative for college students looking for cheap transportation. These vehicles can be purchased with excess funds from tuition disbursement or from personal money. Nonprofit auto charities take donated vehicles from individuals and sell them at or below the fair market value of the vehicle. In turn, the person donating the vehicle receives a tax write off. Most cars are sold "as-is" and range in price from $100 to $1,000 depending on the organization. In some cases, nonprofit auto charities take an additional amount off the price of a vehicle for needy individuals who qualify. A few non-profits to consider include 1-800-Charity Cars and the Good News Garage Program.
References
Writer Bio
Patti Richards has been a writer since 1990. She writes children's books and articles on parenting, women's health and education. Her credits include San Diego Family Magazine, Metro Parent Magazine, Boys' Quest Magazine and many others. Richards has a Bachelor of Science in English/secondary education from Welch College.