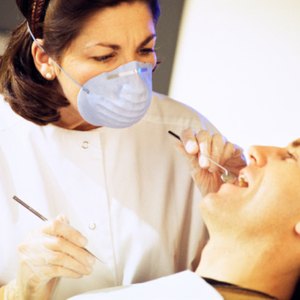 •••
Jupiterimages/liquidlibrary/Getty Images
Taking care of your teeth and gums is one aspect of good dental care. The prevention and treatment of oral problems and diseases is part of taking care of your overall health. Schools of dentistry and dental hygiene may not offer free dental treatments; however, they do often offer lower cost alternatives. In some cases, certain procedures may be no charge. This depends on if there is a clinical study available for the patient to participate in.
Eastern New Mexico University at Roswell
The dental hygiene clinic at this school offers a variety of dental services to the public as part of the school curriculum for student training. The fees for the provided services are lower than those from a private practice practitioner. At ENMU Roswell, a basic dental screenings and cleanings costs ten dollars. X-rays, tooth extractions, fillings, and fluoride treatments are also offered at a discount. The dental hygiene clinic is located in the New Mexico Rehabilitation Center complex.
Mohave Community College
Located in Bullhead City, Arizona, Mohave Community College (MCC) offers low cost dental services to the public, including teeth cleaning and exams for children and adults. Other services include X-rays, both panoramic and full mouth, as well as teeth sealants and deep cleanings. Facilities at MCC are state of the art, which helps students give patients the highest quality of care. As of 2011, fees at this clinic range from $15 to $30.
University Of Michigan School of Dentistry
The University of Michigan School of Dentistry offers a wide range of dental services to the general public and students. Services range from basic cleanings and general dental health to specialized services such as orthodontic care and cosmetic dentistry. While fees and time requirements vary from patient to patient, patients who see a pre-doctoral student in 2011 can expect to pay $46 for a basic cleaning. Those who choose to be seen by a resident or faculty dentist can expect to pay $71 to $80, respectively.
Burlington Community College
Located in Pemberton, New Jersey, Burlington Community College offers dental services to students and the public for a nominal fee. As of 2011, there is a $5 charge for each visit. Services include dental exams, cleanings, fluoride treatments, teeth sealants, and x-rays. The clinic provides preventative dental services for both adults and children.
References
Writer Bio
Elizabeth Sobiski has been writing professionally since 2005. She provides businesses such as Burdick and Lee Galleries, Clearwater Fishing Charters and Read Finder with custom content to keep their digital and print media fresh, informative and directed to their target audience. Sobiski holds a Bachelor of Arts in English from Roosevelt University in Chicago.