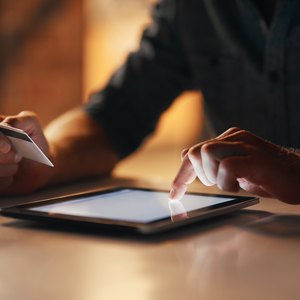 •••
PeopleImages/E+/GettyImages
If you're in the market for a prepaid Mastercard that doesn't require a credit check, you may want to apply for the Western Union NetSpend Prepaid Mastercard. This card comes with some additional benefits, such as special offers from partnering merchants and the refer-a-friend program. For each family member or friend that gets the Western Union NetSpend card and loads it with $40, you'll be rewarded with a $20 credit that you can spend anywhere that accepts Mastercard.
Uses for the Prepaid Mastercard
There are several reasons to opt for the Western Union NetSpend Prepaid Mastercard. Not only will you be able to send and receive Western Union money transfers within minutes using the card, but you'll also get your paychecks deposited to the card up to two days faster than a traditional bank. There's also the option to use the card to pay bills or order merchandise through an online vendor.
Read the Terms and Conditions
Once you've determined you have a use for the card, you'll need to read and agree to all the terms and conditions. Since the Western Union NetSpend card isn't a credit card, you don't have to worry about late fees. Of course, you are subject to fees when you make a money transfer, as well as when you reload your card. Once the money is loaded to your card, it is FDIC insured up to the coverage limit.
Apply for the Card
Unfortunately, if you are a resident of Vermont, you are not currently eligible to apply. Applicants from the remaining 49 states can head to the Western Union NetSpend Prepaid Mastercard application page and fill in their name, address and email address. Next, you'll need to answer the question "Do you plan to use Western Union Money Transfer services with your new prepaid card?" Finally, you'll need to select either paycheck, government benefits, tax refund or none at this time from the drop-down menu under the question "Which of the following payments would you like to receive faster with direct deposit?" Check the box to show that you agree to the terms and conditions and then press the blue "Get a Card" button to submit your application.
Activate Your Card
Give Western Union seven business days to verify your identity and mail your card to the address you applied with. When you receive the card, you'll need to activate it before you can begin using it. You can do this in just a few minutes through the Western Union NetSpend Prepaid Mastercard website, or by calling 1-800-214-5483.
References
Writer Bio
Alicia Bodine is a New Jersey-based writer specializing in finance. With more than 13 years of experience, her work has appeared in LendingTree, GoBankingRates, Sapling, Zacks and budgeting.thenest.com.