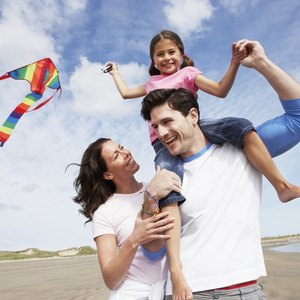 •••
omgimages/iStock/Getty Images
Temporary Assistance for Needy Families, or TANF, is a program that provides welfare benefits for families and children throughout the United States. It's a federally funded program that is built upon both federal and state guidelines. Applicants must meet federal requirements and state requirements to qualify for TANF. The South Carolina TANF program is also known as South Carolina Family Independence. It offers assistance in the form of food stamps, money and health insurance.
Figure Out Eligibility
Before you fill out an application for South Carolina government assistance, you need to figure out whether you are eligible for welfare in the state. South Carolina requires that you be a state resident as well as a national citizen, legal alien or permanent resident of the United States. As of the date of publication, household income for a family of four may not exceed $25,100, according to the U.S. Department of Health and Human Services 2018 Poverty Guidelines. You must be pregnant or legally supporting a child under the age of 19, and you must be unemployed, under-employed or about to lose your job.
Fill Out Application
You can apply for welfare assistance online by visiting the South Carolina Multi-Agency Partnership Portal at scmapp.sc.gov and clicking on "Apply Now," after which you will be guided through the application process. You can also visit a local office of the South Carolina Department of Social Services. The toll-free number you can call to find the location of the nearest office and ask additional questions is 800-616-1309.
Gather Documents To Prove Eligibility
Certain documentation of your eligibility claims will be required when you apply for SC welfare. Prepare to present birth certificates or legal citizenship status documentation for yourself and any children you are claiming. You'll need to prove income through pay stubs and income tax returns for the most recent tax year. Take a bank statement that details your savings and mortgage accounts or rent receipts to prove housing costs. Bills and pay stubs of other people living in your home and any other documentation of your situation will help speed up the process.
Attend an Interview
Whether you apply in person or over the Internet, you will need to make an appearance at the DSS office serving your area. The interviewer reviewing your application will examine your documentation and may ask you questions about your income and expenditures, your work and the number of people living in your household. Falsifying information to obtain TANF is a federal offense, which could result in your being banned from ever receiving TANF.
References
Writer Bio
Linda Ray is an award-winning journalist with more than 20 years reporting experience. She's covered business for newspapers and magazines, including the "Greenville News," "Success Magazine" and "American City Business Journals." Ray holds a journalism degree and teaches writing, career development and an FDIC course called "Money Smart."