How to Apply for Social Security Disability Benefits
by Contributor ; Updated July 27, 2017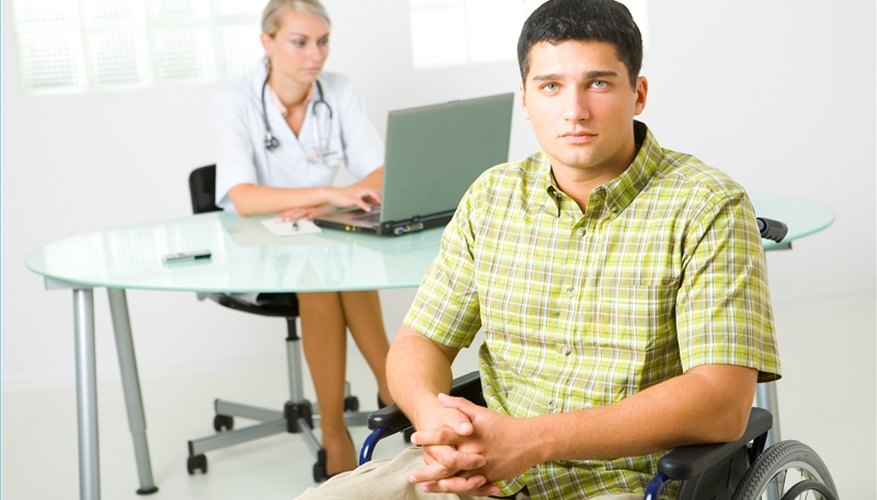 How to Apply for Social Security Disability Benefits. As part of the Social Security system that every taxpayer pays into, there is a built-in disability policy. A person can receive Social Security benefits if totally disabled and unable to perform a job. Follow these steps to apply for Social Security disability benefits if the need arises.
Step 1
Go to the Social Security Administration's website and find the bolded heading "Disability & SSI" in the middle of the page. See Resources below.) Underneath this heading are six links pertaining to disability benefits. Click on "Qualify & apply."
Step 2
Read the "Disability & SSI" page, which gives you an overview of the Social Security disability insurance program. It tells you who qualifies for disability benefits and under what conditions. See the "Applying for benefits" section for information pertaining to both children and adults.
Step 3
Click on the link "Apply as soon as you become disabled" and select whether you are a child or an adult applying for disability benefits. In most cases, you will be clicking on the "Adult" section.
Step 4
Start the application process by clicking on "Adult Disability Starter Kit." The starter kit provides answers to frequently asked questions regarding disability benefits. It also includes a worksheet to assist you in obtaining all the required information for filing for disability benefits.
Step 5
Continue to the second step by clicking on the "online application for Social Security Benefits" link. Then click "Apply for Disability Benefits" and go to the Benefit Application Home Page.
Step 6
Answer the required questions and click "Continue" to get information pertaining to disability benefits and get the online Social Security disability benefit application that you must fill out completely.
Step 7
Move to the third step after you complete the online application, and give an online medical history and permission for medical records. This is the Social Security Administration's "Adult Disability Report."
Step 8
Wait to be contacted by the Social Security Administration after you have complete all three steps of the process for disability benefits. The Social Security Administration must then conduct an interview with you before rendering a decision on your disability application.
Tips
Applying for Social Security Disability Benefits can be difficult, depending upon the type of disability that is being claimed. In some cases, you may have to consult an attorney who specializes in Social Security disability benefits. The Social Security Administration has a toll-free number to assist you with their application process. Staff are available to answer questions during working hours, at (800) 772-1213.