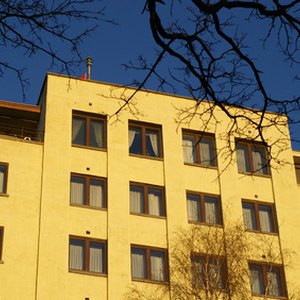 The U.S. Department of Housing and Urban Development's program called Section 8 is an option if you're looking into low-income housing in Lancaster, CA. Lancaster falls under the umbrella of the Housing Authority of the City of Los Angeles (HACLA). In order to qualify, you must submit a completed application that is accompanied by proof-of-income documents.
You must also apply during a time when the waiting list for Section 8 in Lancaster is open. You can determine this by visiting the HACLA website to check for updates.
Qualify for Low-Income Housing Lancaster, CA
Each family that is issued a housing voucher is responsible for finding a suitable rental with a landlord who agrees to rent under the terms of the low-income program. Next, HACLA approves the lease for the unit. The family must then sign a lease with the landlord that is good for at least a full year. More than 13,300 private landlords participate in the program.
Both families and individuals can apply for housing assistance. To be eligible, household income cannot exceed the area limits set by the U.S. Department of Housing and Urban Development (HUD). Here's a glance at the current limits for Lancaster:
​Extremely Low Income:​ Income does not exceed federal poverty level/​30 percent​ of area median income.
​Very Low Income:​ ​50 percen​t of area median income.
​Low Income:​ ​80 percent​ of area median income.
Consider the Specific Requirements
The current bracket for extremely low income goes from ​$24,850​ for a household with one person to ​$46,800​ for a household with eight people. Very low income goes from ​$41,400​ for a single person to ​$78,050​ for a household of eight. Low income covers ​$66,250​ for a single-person household to ​$124,900​ for a family of eight.
In most cases, only families meeting the criteria for either ​extremely low​ or ​very low​ income are eligible for low-income housing Lancaster, CA, assistance. However, low-income standards will be approved for certain properties.
When approving households, the Housing Authority Lancaster, CA, office does require that any group of people seeking to obtain housing together is associated by blood, marriage or some other legal relation. It will be necessary to prove a "significant relationship" before being approved for housing as a household. However, special provisions are in place for people who are elderly or disabled who need to share their homes with live-in caretakers.
How Much Is a Section 8 Voucher in LA?
The most Section 8 will pay is based on the number of bedrooms in a rental. The number of bedrooms you'll be approved for depends on the number of people in a household. Here's a look at how many bedrooms will be approved:
1 to 2 household members: 1 bedroom
3 to 4 household members: 2 bedrooms
5 to 6 household members: 3 bedrooms
7 to 8 household members: 4 bedrooms
9 to 10 household members: 5 bedrooms
11 to 12 household members: 6 bedrooms
Once you've determined how many bedrooms you need for your household, you can search for rentals based on that number. There is a maximum payment amount for each tier. Here's a look:
Single-resident occupancy: ​$1,026​
0 bedrooms: ​$1,369​
1 bedroom: ​$1,765​
2 bedrooms: ​$2,263​
3 bedrooms: ​$2,735​
4 bedrooms: ​$2,982​
5 bedrooms: ​$3,429​
6 bedrooms: ​$3,876​
It is possible to get a new voucher for bigger low-income housing Lancaster, CA, rentals if your household grows. Each year, the Housing Authority Lancaster, CA, office will review your family's unit size to determine if it's an appropriate fit. If the unit is too small, you may receive an updated voucher that allows you to get more bedrooms.
References
Writer Bio
Adam Luehrs is a writer during the day and a voracious reader at night. He focuses mostly on finance writing and has a passion for real estate, credit card deals, and investing.