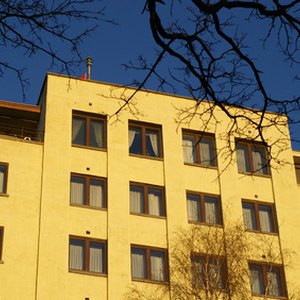 Lancaster, Ca., is served by the Housing Authority of Los Angeles County (HACoLA). The waiting list must be open before you can apply for Section 8 housing in Lancaster. When applications are being accepted, you will be required to submit a complete application, along with proof of income and other supporting documents.
Contact the HACoLA at 800-731-4663 to see if the waiting list is open. Alternatively, check the HACoLA website (see Resources).
Verify your income eligibility. To qualify for Section 8, your gross annual income cannot exceed 50 percent of the Area Median Income (AMI) for your family size. AMI is set by the U.S. Department of Housing and Urban Development (HUD) annually, and current guidelines can be viewed on the HUD website or the HACoLA website. Note that HACoLA must ensure that 75 percent of the families receiving Section 8 have incomes that do not exceed 30 percent of the AMI. Because of this rule, families with incomes below 50 percent but above 30 percent of AMI may face a longer wait for Section 8 than families with incomes below 30 percent of the AMI.
Meet the HACoLA definition of a family. Section 8 is available to single individuals living alone or groups of people living together who are related by blood, marriage or some other operation of law, such as adoption. A group of people wishing to qualify for Section 8 as a unit must be able to prove that they have a "significant relationship" before they will be granted Section 8 to share a home. There are special provisions for the elderly and the disabled who share a home with a home health aide.
Ensure you meet the citizenship requirements. All members of a household must be U.S. citizens or non-citizens eligible for public assistance to be approved for Section 8. If you are unsure if your immigration status makes you entitled to public assistance, contact the office of the U.S. Citizenship and Immigration Services that issued your immigration documents. HACoLA will verify immigration status before approving Section 8.
Complete and submit your application along with the requested supporting documentation. When the waiting list is open, you can obtain applications via the HACoLA website or by calling and requesting that an application be sent to you. Be prepared to provide proof of income for all working members of your household. HACoLA may request a number of supporting documents, depending on your application, including birth certificates and credit reports, and will perform a criminal background check. HACoLA will notify you about any additional information it needs to make a decision on your application.
Use the HACoLA website to track your application status and position on the waiting list. You should also use the website to keep your application up to date, should you change employers, move or see your income increase or decrease.
References
Writer Bio
Lily Welsh is a freelance writer from North Carolina, though she has spent much of her adult life living abroad. She is the About.com Guide to Music Careers, and her work appears frequently in other Web-based and print publications. Welsh has worked in the music industry for 15 years and counting and holds B.A.s in international studies and economics.