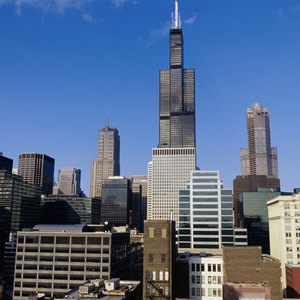 •••
Purestock/Purestock/Getty Images
Government-run and private nonprofit agencies administer rental assistance programs in Chicago. The Department of Housing and Urban Development provides funds for the Housing Choice Voucher Program, commonly known as Section 8. Section 8 involves two types of subsidized rent that help low-income families, the elderly and the disabled. A Section 8 voucher is more widely used than a Section 8 certificate, but the program differences are relatively minor. You must contact a HUD-approved agency and meet income requirements to apply for Section 8.
Section 8 Vs. Public Housing Programs
Section 8 is a tenant-based subsidy program, which means the voucher or certificate is issued to the tenant and may be used at any privately owned rental that accepts Section 8. It differs from another HUD-based rental assistance program known as public housing, in which the subsidy remains with a government-owned rental unit rather than the subsidy recipient. Tenants lose their public housing subsidy when they move out of the rental unit.
Finding Section 8 Agencies
Section 8 typically has long waiting lists due to the high demand for affordable housing and the short supply of rentals and program funds. As a result, apply at multiple agencies when wait lists are open. Certain applicants may also qualify for priority placement due to homelessness, displacement after a natural disaster or other uncontrollable circumstances.
Application and Supporting Documents
Complete and sign the application for submission to your PHA. PHAs review your eligibility based on income, location and household size. You must supply the names and Social Security Numbers of all household members. Include all sources of income, such as family or child support payments, employment income and government benefits. You also must disclose assets, such as retirement, checking and savings account amounts.
You must also provide supporting documents to prove residency and immigration status. For example, you need a state ID or Driver's License reflecting your Chicago address. You also must provide a rental agreement, utility bill or government-assistance letter that shows your home address. Non-U.S. citizens must provide proof of permanent alien status.
Chicago Income Limits
The PHA compares your earnings and household size with the Section 8 limits for Chicago. HUD sets limits based on county and city median income data for the year. In general, you can't make more than 50 percent of the median income to qualify. Most Section 8 vouchers go to households that make 30 percent or less of the area median income. In 2018, a four-person household with an income of $42,300 or less was considered very low-income and $67,700 or less was considered low-income.
References
Writer Bio
Karina C. Hernandez is a real estate agent in San Diego. She has covered housing and personal finance topics for multiple internet channels over the past 10 years. Karina has a B.A. in English from UCLA and has written for eHow, sfGate, the nest, Quicken, TurboTax, RE/Max, Zacks and Opposing Views.