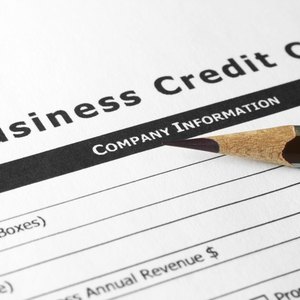 •••
alexskopje/iStock/Getty Images
Sears offers two credit cards: the Sears credit card and the Shop Your Way Mastercard. You can apply for a Sears credit card of your choice at Sears.com or at a Sears or Kmart store in your locale.
Depending on how quickly you're approved, you can start using your card the same day you apply. However, the two credit cards offer different benefits and have different limitations. So, make sure you review them both by paying close attention to the credit application questions.
How to Apply for a Sears Credit Card
You can only use the Sears credit card at Sears and Kmart locations, including Sears retail stores, Sears Auto and Sears Optical. You can also use the store credit card on the Sears family websites.
Different banks that issue credit cards often partner with nonfinancial companies to offer branded credit cards. For Sears credit cards, Citibank is the issuer. You apply for this store credit card on the Sears website, just as you would for any other credit card, and you'll need to meet the same basic requirements.
Before you start the application process, be prepared to give your full legal name, street address, email address, phone number, date of birth and Social Security number. You will also need to provide your annual income and your monthly rent or mortgage payment. Then, you will choose the card at the checkout and complete the application process.
If you get immediate approval, you can return to the Sears website and start shopping with your temporary card, which is added to your online profile. Then, you will receive your plastic card within 14 days to use online or in-store.
How to Apply for a Shop Your Way Mastercard
You can apply for the Shop Your Way Mastercard on the same webpage as the Sears credit card. The process is the same as applying for the Sears credit card. However, unlike the Sears credit card, you can use a Sears Mastercard anywhere Mastercard is accepted, including gas stations, other grocery stores and on Amazon.
Look for signup specials with this card. For example, as of October 2022, new Sears Mastercard holders can receive up to $225 in statement credits, and for every $500 spent on eligible purchases within the first 90 days after your credit card application is approved, you could earn $75 statement credits up to $225.
The promotional period for the current rewards program is expected to last all the way to January 28, 2023.
Create an Online Sears Account
You should create your online Sears credit card account so you can manage your card and track your transactions.
For example, after you perform a credit card login, you can check your balance and available credit, view recent and pending transactions and set up auto payments so you don't miss any payments and attract a late fee, which would damage your credit and lower your credit score.
Also, you can view statements, check your APR, receive fraud notifications and put a freeze on a stolen card and other activities to avoid unnecessary interest charges.
Benefits of Sears Credit Cards
Depending on which card the issuer gives you, you'll receive discounts and financing options on products and services at Kmart and Sears stores, receive rewards points (based on your spending) and get a protection and security benefit that protects you if your card is used without your permission (such as after a hack or if it's stolen). You can see the rewards credit cardholders get on the Sears website.
These cards have a high interest rate. As of September 2022, the variable APR for purchases on these cards ranged from ‌10.24 to 28.24 percent,‌ while the nonvariable APR ranged from ‌5.00 to 26.49 percent‌. It is worth noting that variable rates tend to go up and down when the U.S. Federal Reserve raises or lowers the prime rate.
References
Writer Bio
Steve Milano has written more than 1,000 pieces of personal finance and frugal living articles for dozens of websites, including Motley Fool, Zacks, Bankrate, Quickbooks, SmartyCents, Knew Money, Don't Waste Your Money and Credit Card Ideas, as well as his own websites.