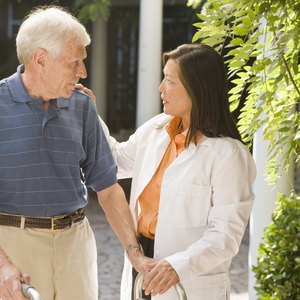 •••
Comstock Images/Comstock/Getty Images
If you are a low-income family living in Dallas, Texas, you do not have to go without medical insurance. The federal government offers medical insurance benefits through the Medicaid program. In order to qualify for the Texas Medicaid program, you must have children 18 or younger living in your household. If you don't have children that age, you can still qualify if you are pregnant, disabled or blind.
Visit a Texas Health & Human Services Commission office near you. To find the nearest office, use the office locator tool on the agency website.
Complete an "Application For Assistance" (see Resources). On the application, select the "Medicaid" option in the Medical Assistance section. To complete the application, you must enter your name, Social Security number, date of birth, contact information, information about household members, household income, household expenses and household resources.
Submit your completed application to an agency representative. Present the required documents, such as a government-issued photo ID, Social Security card, check stubs, bank statement, lease, utility bills and proof of other household expenses.
Apply for Texas Medicaid program by calling "211" from your mobile phone if you don't want to visit in person. When the 211 representative answers, advise him that you would like to submit an application for Medicaid over the phone.
Submit a Texas Medicaid application online via the "Your Texas Benefits" website. In order to complete the online application, you must first create a user account. Although the application is submitted electronically, it requires the same information as a hard copy application.
Apply for Texas Medicaid through the mail or fax. Submit a hard copy of the "Application For Assistance" to the address or fax number listed on the application.
References
Writer Bio
Faizah Imani, an educator, minister and published author, has worked with clients such as Harrison House Author, Thomas Weeks III, Candle Of Prayer Company and "Truth & Church Magazine." Her dossier includes JaZaMM WebDesigns, assistant high-school band director, district manager for the Clarion Ledger and event coordinator for the Vicksburg Convention Center.