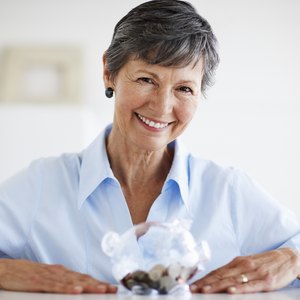 •••
Fuse/Corbis/GettyImages
Social Security income benefits, also referred to as Supplemental Security Income, or SSI, provide additional income to individuals with a demonstrated need to help them meet basic needs, such as food and housing. Typically the program helps aged or disabled adults and children who meet specific financial eligibility standards. In certain situations, the Social Security Administration allows disabled individuals to file for emergency benefits to help them address immediate needs during difficult times.
Make an Appointment
To get started, you'll need to make an appointment to either visit a location or speak with someone over the phone. Call 800-772-1213 between the hours of 7 a.m. and 7 p.m. any Monday through Friday and speak with a representative to make an appointment to complete and submit an application for Supplemental Security Income. You can also call your local Social Security office to make this appointment. Appointments can be completed in person at a local Social Security office or over the telephone. Visit the local Social Security office to apply in person. When visiting a local Social Security office without an appointment, you may have to wait before a counselor can speak with you and complete the application. Set up an appointment by phone beforehand to avoid any possible wait.
Provide Documentation
Provide all documents necessary to qualify for SSI. Have your Social Security card or number, birth certificate, proof of income and work history for the previous 15 years handy. Other documents you will need include those that relate to your resources, such as bank account statements, mortgage deeds and vehicle titles. Provide any relevant information such as medical reports, a list of prescription medications and contact information for your physician to help provide proof of disability.
Request Emergency Payments
Meet the eligibility requirements for emergency payments. You can request an emergency payment for several reasons, including presumptive disability or blindness and financial emergencies. Provide proof of certain medical conditions, such as leg amputation, total blindness, total deafness or terminal illness, to qualify for emergency payments under the presumptive disability or blindness standards. This allows qualified individuals to receive emergency payments while a final determination is being made. Those who qualify for SSI may request an emergency payment to meet pressing financial needs, such as money for food and housing, if the first payment is delayed or not received for any reason.
Follow Up
Continue with the application process. Keep in touch with your local Social Security office to make sure it has all of the documentation necessary to continue processing your application. Provide any additional data and paperwork requested to substantiate your claim for SSI.
References
Writer Bio
Nicole Long is a freelance writer based in Cincinnati, Ohio. With experience in management and customer service, business is a primary focus of her writing. Long also has education and experience in the fields of sports medicine, first aid and coaching. She earned her Bachelor of Arts degree in economics from the University of Cincinnati.