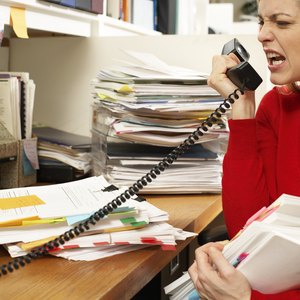 •••
Christopher Robbins/Digital Vision/Getty Images
Generally speaking, independent reviews give insurance carrier Amica some of the industry's highest rankings. Problems with the company, therefore, are limited in comparison to many other insurance carriers. Some of the problems reported in reference to Amica are associated with its high ranking position in the industry. The primary problems with Amica include its choosiness about eligibility for coverage by the company, limited agent coverage, limited geographical coverage and some claims problems.
Pickiness
One of the problems with Amica with regard to auto insurance particularly, is that it is picky about who it takes on as customers. Amica will typically refuse to ensure potential customers with multiple accidents or even with several tickets.
According to ConsumerSearch's review, Amica takes credit history into account when considering potential insureds. While more information is available on automobile insurance than other product lines, some available data indicates that claims history in general factors into Amica's decisions to accept customers for other coverage, such as homeowners' insurance.
Few Local Agents
Another problem customers have reported about Amica is that it has few local agents. While most Amica customers said the company has good customer service and involves minimal or no hassles in dealing with it, the limited availability of local agents can pose a problem for some customers.
Business Over Telephone
As a direct result of the fact that Amica has few local agents, the company does most of its business over the telephone. While in most situations this is not a problem, this can pose an inconvenience in some circumstances.
Geographical Restriction
One potential problem is that while Amica offers insurance in most states, there is one exception. Amica does not service the state of Hawaii, even for Hawaiian residents who qualify under Amica's strict eligibility requirements. They must then seek other companies, almost all of which received lesser rankings than Amica.
Complaints
Amica insurance has one of the top ratings in the industry. In fact, the only other company rated at the same quality level offers insurance only to individuals with some association to the military. All the same, Amica Insurance did over a three-year interval have nine complaints lodged with the Better Business Bureau.
Claims Problems
Amica rated favorably against other insurance companies in independent review with reference to the company's handling of claims. However, Amica did not achieve a perfect score on customers having difficulty with claims. According to a review at Consumer Reports, 14 percent of Amica's customer base reported claims problems.
References
Writer Bio
A writer/editor since 1984, Christine Lebednik has spent much of her career in business and technical writing, and editing. Her consumer print and online articles include product descriptions for TDMonthly Online, book reviews for Catholic News Service, consumer reports for Consumer Search and works for various other publications. Lebednik received her Bachelor of Arts in English from Salem State College.