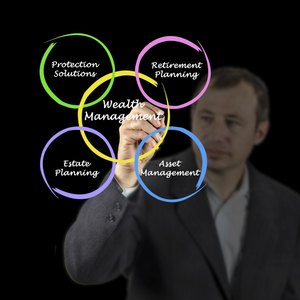 •••
vaeenma/iStock/Getty Images
Offering clients financial products, planning, and services, such as cash, wealth, and asset management, Ameriprise Financial Inc. is headquartered in Minneapolis, Minnesota, the city in which the company was founded in 1894. Ameriprise ONE is a registered trademark of the financial services company and refers to its brokerage account with cash management features.
Personal Accounts
Ameriprise ONE financial accounts offer private consumers a package of cash management services that allow clients to direct spending, savings and investments with professional guidance. The Ameriprise ONE Financial Account is linked electronically to the account holder's private checking account in another bank or financial institution.
Funding the Account
Account holders use direct deposit to authorize payroll, Social Security checks, retirement benefits, or other regular income to be transferred into the Ameriprise ONE Financial Account. Account holders decide if, and how much of this deposit goes to savings such as CDs or a money market account. Secondly, insurance premiums for automobile, homeowners and other insurance policies can be set up for automatic payments from the Ameriprise brokerage account.
Saving for Retirement
The account holder has the option of preauthorizing specific amounts to be transferred regularly from the Ameriprise ONE account into an IRA or other retirement accounts. In addition, clients can invest in the stock market or use part of the regular income deposits to buy bonds or mutual fund shares. The account holder retains complete control over the allocations, with Ameriprise personnel offering professional guidance. Fees for services of a financial adviser may apply, depending on the complexity of the client's financial plans.
Paying Everyday Expenses
An authorized portion for regular living expenses is automatically transferred, on a schedule set by the account holder, into a personal checking account at a bank of the account holder's choosing. Everyday expenses such as groceries, gas for the car and lunch money can be budgeted and transferred into an account at a local bank.
Additional Features
Additional features of the Ameriprise ONE Financial Account include unlimited online bill payments and no limits on the number of checks an account holder can write. Ameriprise requires an initial minimum opening deposit of $500, which can be in cash or securities. Once the account is open, the client does not have to maintain a minimum monthly balance to use the account. However, the company does charge a maintenance fee of $20 per quarter for this cash management account. The fee is waived if quarterly deposits equal $9,000 or more or the account holder is a member of the Achiever Circle Elite, which requires maintaining investments with Ameriprise valued at $500,000 or more per household. Account holders also receive a Visa debit card to access funds in the account. After the debit card is used the first time, the Ameriprise ONE account holder is automatically qualified and enrolled in the company's rewards program.
References
Writer Bio
Vicki A Benge began writing professionally in 1984 as a newspaper reporter. A small-business owner since 1999, Benge has worked as a licensed insurance agent and has more than 20 years experience in income tax preparation for businesses and individuals. Her business and finance articles can be found on the websites of "The Arizona Republic," "Houston Chronicle," The Motley Fool, "San Francisco Chronicle," and Zacks, among others.