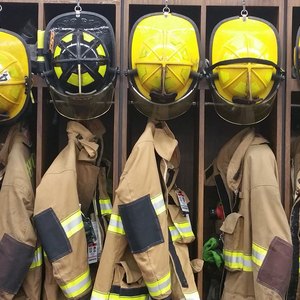 •••
Gabe Palmer / EyeEm/EyeEm/GettyImages
Fire fighting is an extremely dangerous occupation, thankfully, firefighters in some states are entitled to tax incentives. All firefighters in Maryland are eligible for certain state income tax deductions as part of their compensation for service to the citizens of the state. The instructions for Maryland Income Taxes allow firefighters five tax deductions.
A variety of tax deductions are available to Maryland firefighters, including official vehicle use, length-of-service awards and job-related physical injuries, among others.
Pension Payments
Maryland firemen are allowed to deduct payments from the fireman's pension system for job-related injuries or disabilities. A deduction can only be taken for an amount up to the total fireman's pension payments included in his total income. Any amount not included in the total income cannot be included as a deduction.
Official Vehicle Use
A Maryland fireman is allowed to deduct the amount added to his taxable income for the use of an official vehicle, if he is a member of a state, county or local fire department. This amount will be stated separately on his W-2 form.
Length of Service Awards
Although firefighting is a stressful and dangerous career, many firefighters spend their entire working life with the department. For that loyalty, some Maryland counties or state municipal corporations, including Caroline County and Anne Arundel County, provide a length-of-service award. Payments received under these award programs are deductible on a fireman's Maryland income tax return. These awards are locally funded and to qualify, you must be an eligible volunteer with at least one year of certified active service. You also need to have logged a certain number of active service years before reaching the program's entitlement age. You need to reach entitlement age of at least 50 years old in some counties, including Calvert and Howard before you can receive the benefits, but this age can range as high as 65 years old. In some counties some level of benefits are afforded to relatives or spouse if the firefighter dies or becomes disabled prior to reaching the age of entitlement.
Volunteer Vehicle Expenses
Travel expenses incurred for use of a fireman's personal vehicle can be deducted if they meet two tests: The fireman must be serving a volunteer fire company, and he must not have been reimbursed for the expenses from another source. In order to claim this deduction, the fireman must attach a completed Maryland Form 502V – Use of Vehicle for Charitable Purposes.
Subtraction Modification Program
Maryland volunteer firefighters who are certified by a Maryland fire, police, rescue or emergency medical services organization are entitled to receive $4,250 for 2017 – increased to $4,500 for 2018 – from The Honorable Louis L. Goldstein Volunteer Police, Fire, Rescue and Emergency Medical Services Personnel Subtraction Modification Program. This $4,500 is deductible from Maryland income taxes.
References
Writer Bio
Mary K. Hogan currently holds a Certified Business Analysis Professional certification from the International Institute of Business Analysis and has held the designation of certified trust and financial analyst. Hogan has been a contributing writer online since 2009 and is currently working on her third children's book.