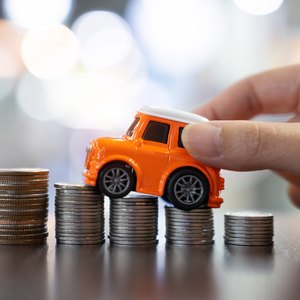 •••
krisanapong detraphiphat/Moment/GettyImages
When searching for car insurance, affordability is a key issue. After all, no one wants to pay more for the exact same security in the case of a car accident. However, part of what makes it hard to compare car insurance premiums is that each product may be slightly different: from the coverage you request to the discounts available.
It's important to evaluate car insurance options based on all the ways that they can become affordable while also offering the elements of car insurance that matter most: high coverage, easy claims processing, customer support, and helpful discounts.
Using as many equal coverage options as possible, we explored an online insurance averages database to find rates for affordable car insurance. No discounts are included, so your actual quote is likely to be much lower. The results were impressive, though every individual should try for their unique coverage needs in order to get a more precise idea of what the affordable options are.
​Affordable Car Insurance Comparison​

| ​Company​ | ​ Married​ | ​Married w/Teen​ | ​Single-NV​ | ​Single-TT​ | ​Single-AtF​ |
| --- | --- | --- | --- | --- | --- |
| Allstate | $4,373 | $7,226 | $1,223 | $1,444 | $2,196 |
| AAA | $3,156 | $4,634 | $837 | $1,238 | $1,319 |
| Esurance | $2,884 | $7,520 | $1,134 | $1,330 | $1,250 |
| Farmers | $3,779 | $6,773 | $1,309 | $1,521 | $1,901 |
| GEICO | $2,896 | $5,628 | $686 | $740 | $879 |
| Liberty Mutual | $3,151 | $4,443 | $1,002 | $1,538 | $2,015 |
| Nationwide | $3,653 | $6,062 | $1,180 | $1,312 | $1,312 |
| Progressive | $3,206 | $6,904 | $1,010 | $1,804 | $1,858 |
| State Farm | $5,418 | $5,809 | $806 | $1,242 | $1,303 |
| USAA | $2,531 | $4,686 | $695 | $761 | $847 |
Data from California Department of Insurance
​Married​ = Standard auto insurance for two married drivers with two cars in one household.
​Married w/Teen​ = Standard auto insurance for a married couple with two cars in one household with a teen driver who has 1 year of experience.
​Single-NV​ = A single driver, selecting minimum or basic coverage, with no violations.
​Single-TT​ = A single driver, selecting minimum or basic coverage, with one traffic ticket.
​Single-AtF​ = A single driver, selecting minimum or basic coverage, with one at-fault accident.
Best for Married Couples
1. Esurance Car Insurance: Great Coverages and Easy Quotes Systems
You'll be hard-pressed to find a faster and simpler quote process than the Esurance car insurance platform, which offers you an on-demand quote once you answer a few simple questions. They offer a variety of coverage types and let you try adding and removing different coverages in real time, without resubmitting your quote. Esurance is an Allstate car insurance company, but note that you may have varying quotes depending on whether you work through Allstate or Esurance.
2. Farmers Car Insurance: Good For Married Couples
When it comes to auto insurance, Farmers has a long-standing track record of excellence and their standard rates for married couples with no violations are affordable options. When you have a clean driving record and are interested in coverages like motorist coverage and comprehensive coverage, you may want to research Farmers for their affordability.
Best for Drivers With Traffic Tickets and Accidents
1. USAA Car Insurance: Affordability for Armed Services
In nearly every category, from deductibles to full coverage and personal injury protection, USAA is well known for offering cheap car insurance with high customer satisfaction. They are only available to United States military service members and their eligible family members, so it is important to check if you fit the requirements before you work to save money with this kind of car insurance policy.
2. Nationwide Car Insurance: Affordable After At-Fault Accident
Nationwide is a well-known auto insurer with reasonable car insurance premiums and a particularly reasonable rate if you've experienced an at-fault accident. These kinds of accidents happen in a split second and have a long-term impact on your insurance rates, so consider Nationwide among your other options if you find yourself with an at-fault accident on your record.
Most Affordable Premium Companies
1. GEICO Car Insurance: A Premium Leader
GEICO car insurance coverage is well-known for being inexpensive, even with common deductibles and coverage options. When you get car insurance quotes, no matter what situation you find yourself in, make sure you consider GEICO among your options to make sure there isn't a way to save more money with the cheapest car insurance in a particular category. Be aware that you'll have to discuss insurance options with an insurance agent to make sure your quote perfectly fits the coverage you need.
2. Progressive Car Insurance: Strong Marks on Full Coverage
When you get a free car insurance quote from Progressive for high-coverage options and are a good driver, you stand to get an excellent deal. Their married-couple, no-violations full coverage average quote in our records was very reasonable and means that they should be a contender in your search for an excellent car insurance policy from the leading auto insurance companies.
3. State Farm Car Insurance: Best With Teen Drivers
Teen drivers often come with steep increases in premiums, but State Farm auto insurance comes with one of the smaller bumps from a married couple up to a couple with a teen driver. Because of the high costs for insurance for a teen driver, consider State Farm for a manageable increase in costs.
Most Affordable Overall
1. Liberty Mutual: Excellent Discounts
Liberty Mutual car insurance does well in many categories, but they particularly shine when you factor in discounts, which our California-based data does not include. Make sure you read up on all the discounts they offer, from paying in full to bundling, from safety features on your car to the RightTrack program that installs on your phone.
2. AAA Car Insurance: Bundling and Membership Perks
AAA's individual motor clubs around the country also offer car insurance, though you need to be a AAA member before you have access to these rates. Yearly membership is often inexpensive and comes with the benefits of being a member, such as roadside assistance, which means that a combined membership and cost of the insurance together could still leave you with valuable insurance savings.
Things To Remember About Affordable Car Insurance
Whether you ultimately fall in love with the combination of affordability and great discounts from Liberty Mutual or the cheap policies and strong customer support available at a company like Allstate, doing your homework is the number one way to make your own, customized insurance quote the lowest it can possibly be.
Shop around to various auto insurance companies, and consider bundling homeowners or renters insurance with your auto policy for additional savings.
Keep an eye on what discounts apply and which ones you actually find attractive and focus on the companies that provide those discounts.
Recognize that different quotes systems will have different limitations: some, for example, will pull up public record data about you from your current car insurance company and offer you comparable coverage, while others won't.
Consider carefully how much you want coverages and deductibles to be, since these factors can really sway the total on your car insurance costs.
Affordable car insurance isn't all created equal; some, for instance, might increase premiums frequently. Make sure you talk to an agent before you sign up in order to make sure you've taken full advantage of all available discounts and programs.
If your credit score is particularly low, expect to pay more for car insurance. In each state, the variation between car insurance for poor credit and car insurance rates for drivers with good credit is different, but every state's coverage has this gap.
Every year or two, consider how your situation has changed - has your credit gone up? Have you had a few years of excellent driving record? Consider getting a new car insurance policy from a company that offers affordable car insurance and see if you can now save some money.
​All sample quotes are insurance estimates with other factors held equal by the​ ​California Department of Insurance​​, and are annual premiums that are effective January 1 2020. Even if you fit these demographics, your quote will be different due to factors like miles driven, years of experience, location, and the specifics of your driving record.​
References
Writer Bio
Laura Leavitt is a personal finance writer in the Midwest, focusing on saving strategies, simplifying your life, and money mindsets.