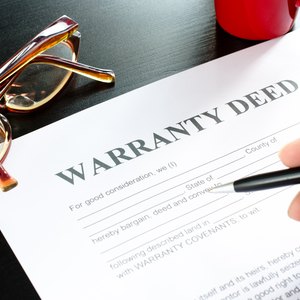 •••
maybefalse/iStock/GettyImages
The most common scenario where you would want to add a spouse to the warranty deed to your home is if you own a property and later get married. The most common type of deed is a warranty deed, which guarantees that the home has a clear title, and there are no third-party claims or liens against it. When you buy a property, it is a guarantee that no one can come along later and make a claim against the property. Now, let's explore how to add your spouse to your warranty deed in Texas.
Should I Put My Wife on the House Deed?
The first thing that you need to consider is whether you should put your wife on your deed. You might be wondering, does my wife need to be on the deed in Texas? Several factors must be considered when answering this question. The first one is that of survivorship.
Texas is different from other states in that survivorship does not automatically default to the spouse or other co-owner of the property. Just because your spouse's name is on the deed does not automatically mean the property will transfer to them if you should become deceased. For the property to be transferred to them, you must have their name on the deed, and you must have a Right of Survivorship Agreement on file. Also, if your spouse owes money, you could end up with a lien against your property.
Process for Adding Spouse to Deed in Texas
The next question you might have is how to add a spouse to deed in Texas. In Texas, there are three primary ways to add your spouse to your deed. You cannot simply add their name to it, but you must convey an interest in the property to them. In all cases, it means transferring the title from yourself to both of you, where you can use a warranty deed, deed without warranty or quitclaim deed.
The process for filing is simple in Texas. You can obtain the proper form from the courts, your lawyer, online, at office supply stores or from your real estate agent. Make sure the one that you get is legal in your county. Before you fill out the form, you will need to decide how you and your spouse will hold the title to the house. You can be joint tenants or tenants in common, both of which have different legal effects.
Next, you need to fill out the form and print it out, but don't sign it. You will need to find a notary and sign it in front of them. You must then file it at the recorder's office in the county where the property is located.
Can I Add My Partner to the Deeds of My House?
You can add your significant other to the deed without you being legally married. You can also add your children or siblings. Be aware that if you only add the person's name to the deed and do not have a will that allocates distribution of your assets, if you die, your significant other will only have a ​50​ ​percent​ interest in the property. Your children and other heirs will automatically have ​50​ ​percent​. This can lead to a long probate battle, so be sure to have a will on file, too.
As you can see, Texas has quite a few nuances when it comes to deeds and survivorship that are different from other states. You need to do your research before deciding to add anyone to your property deed. The best advice is to contact an attorney who specializes in these matters.
References
Writer Bio
Adam Luehrs is a writer during the day and a voracious reader at night. He focuses mostly on finance writing and has a passion for real estate, credit card deals, and investing.