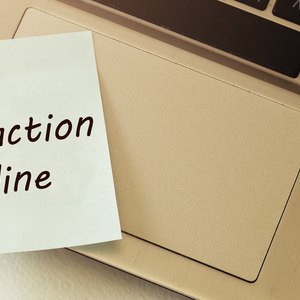 •••
Alena Butor/iStock/GettyImages
Apple Pay is reported to be king of the mobile wallet app world, taking up more than a third of the market. It does almost everything, integrating your credit and debit cards with your bank accounts so you can shop, pay people, and receive money on the fly. It introduced its own Apple Card credit card in ​2020​, issued by Goldman Sachs Bank, but you can add your other cards into the app as well.
How you do so can depend on where your app resides – on your iPhone, your Mac, your iPad or your Apple Watch. Apple Pay can only be used with Apple devices.
About Apple Pay
Apple Pay has been around since ​2014​. The app allows you to use Apple Pay to pay and receive money from family and friends, make purchases in retail stores, in restaurants and even from vending machines, and make online payments in more than ​30 countries​. The in-store feature operates on near field communications or NFC technology in establishments that are set up to receive this type of payment.
But here's where Apply Pay can get tricky: You can only use some features on certain devices. For example, you can only pay in a store using your iPhone or your Apple Watch. You can't transfer or receive money from friends from your Mac.
Unlike some similar apps, however, Apple also lets you transfer personal payments using a credit card, although there's a ​3 percent​ fee for this. Apple itself doesn't charge any other fees, however.
How to Add Cards to Apple Pay
You can add from ​eight to 12 cards​ to Apple Pay, depending on how elderly your device is. You need an iPhone 8, 8 Plus or later, or an Apple Watch Series 3 or later, if you want the app to store ​12 cards​ for you.
Adding the cards to your phone is really quite simple. Position the card in the frame and click to take its picture. That's it. You can also enter the information manually in the Apple Wallet if you like. You need the account number, expiration date, CVV code and, of course, your name.
The app provides a demo that walks you through these basic steps. Your card-issuing bank is notified when you tap on "Next" so it can verify your information. Tap "Next" again when your card information has been confirmed, and voila. You can start using Apple Pay. Unfortunately, simply adding your cards to your iPhone won't make them available across all your devices. You have to add them to each device separately.
Add cards by going to "Settings," then to "Wallet & Apple Pay" on your iPad, and then tap on "Add card." Apple walks you through the process from there. The steps are the same on your Apple Watch, but you start out on the "Apple Watch" tab and go to "Wallet & Apple Pay" from there.
You can enjoy yet another feature when you've accomplished all this. All you have to do is tap on a card in any one of them and Apple will help you with your budget, showing the details of your latest transactions. And here's another nice convenience: Your cards should update automatically when they expire and you're issued a new one, although you'll probably need your bank's cooperation for this feature.
How to Switch Cards
You select one of your cards as your default payment method when you add them to the app. Your default method will be the first card you enter. But you're not necessarily locked into always using that choice. You can pay with a different card at any time in one of a few ways.
Just tap on your default card on your iPhone or iPad, then select "Choose another card." Smile for the camera if your phone has Face ID and the switch is made. The process is the same if your phone has Touch ID, but you'd rest your finger on the Touch ID instead. You can also hold down on the new card you want to use and drag it forward so it's at the front of the line.
Double-click on the side button to make the switch on your Apple Watch, then swipe left or right to choose another card when your default card shows up on the face. Alternatively, you can open the Apple Watch app on your iPhone, go to "Wallet & Apple Pay," then to "Default card" and make the switch from there.
How to Remove a Card
Apple supports diversity. You can add cards, switch default cards or get rid of a card that you don't use or don't have any more, so its information doesn't clutter up your device.
The process is pretty much the same for switching your default card on your iPhone or iPad. Go to "Settings," then to "Wallet & Apple Pay" and tap on the card you'd like to say goodbye to. Tap on "Remove this card" when you're offered options.
Open the watch tab on your iPhone to remove a card from your Apple Watch. Go to "My watch," then to "Wallet & Apple Pay" and tap the card. You'll receive the same options. Tell Apple you want to remove the card.
How to Sign Up With Apple Pay
Of course, you'll have to sign up with Apple Pay to do any of this, but that can be very easy as well. It's a safe guess that the app is already on your device if you've purchased an iPhone or iPad in relatively recent years. It's included on iPhone 6 and later versions as sort of a package deal. Unfortunately, if your device is older than that, you might be out of luck. For example, iPhone 5 isn't compatible with the app.
Just tap on "Wallet," assuming the app is pre-loaded, then on the plus sign that appears on the right, and you're on your way. You'll have to establish a passcode and select Face ID or Touch ID. Now grab those credit cards and get busy.
References
Writer Bio
Beverly Bird has been writing professionally for over 30 years. She is also a paralegal, specializing in areas of personal finance, bankruptcy and estate law. She writes as the tax expert for The Balance.