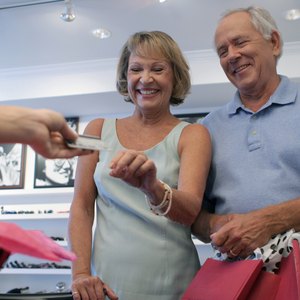 •••
Purestock/Purestock/Getty Images
Activating a prepaid debit card is easy and takes just a few minutes. You must have your card with you when you activate so you can enter your card number, three-digit security code and expiration date. Some issuers charge an activation fee or other fees to maintain your prepaid debit card. Review these fees and other terms before you activate. When you activate the card, you agree to the conditions established by the card issuer.
Before Activation
Unless you purchase a prepaid debit card in a retail store, you must order it. Prepaid cards are typically available for purchase through an issuer's website. When you order a card, it arrives by mail and is not active until you follow the instructions that come with the card.
Online
Prepaid card issuers give you the option of activating your new card online through their website. The activation Web address is included with the card, but if you lose the activation sticker, go to the issuer's website and search for an "Activate Card" button. The issuer is shown on the back of your card and should not be confused with the brand of the card, such as Visa or MasterCard.
By Phone
In addition to online activation, you can activate your card by phone. When you receive the card, an activation number is provided on a sticker or with your card documents. The number usually goes to an automated system into which you can simply enter your card information. However, in some instances, you may be routed to a live person who will ask for the card information and perform the activation. Operators can also answer questions about your balance and offer additional services when you call to activate.
Instant Activation
When you purchase a prepaid debit card in a retail store such as Wal-Mart, Target or a grocery store, your card is instantly active. The cashier activates the card through the register and gives you an activation receipt. Your initial load is reflected in your account transaction history, but keep your activation receipt in case your transaction history is inaccurate. Any activation fee you're required to pay is not added to your available card balance. It is an extra amount collected by the issuer for activating your card. For example, if a card has an activation fee of $3.95 and you want to load $25 to the card, you'll pay the cashier $28.95 and have a $25 balance on your card. Instant activation cards are temporary and you must register your account with the issuer to receive a personalized and permanent card.
References
Writer Bio
With a background in taxation and financial consulting, Alia Nikolakopulos has over a decade of experience resolving tax and finance issues. She is an IRS Enrolled Agent and has been a writer for these topics since 2010. Nikolakopulos is pursuing Bachelor of Science in accounting at the Metropolitan State University of Denver.