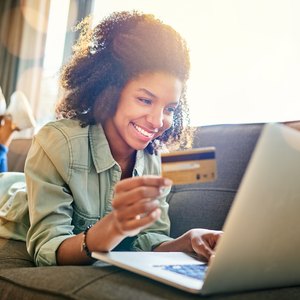 •••
PeopleImages/E+/GettyImages
Bank of America operates in all 50 states and has an impressive 4,600 banking centers and 15,900 ATMs. Bank of America sits at No. 26 on the Fortune 500 and has $1.7 trillion in deposits. The company offers both credit and debit cards affiliated with Visa. When you open a checking account at the bank, you will receive a Visa debit card, and you can apply for a Bank of America Visa credit card. As a bonus, you can choose to apply for a credit card that offers travel or other rewards. Before you can begin using your card, however, you'll need to activate it. Fortunately, this process is quick and easy.
Activation Over the Phone
Debit cardholders who want to activate their card by phone can call 1-888-624-2323 and follow the prompts, which typically entails entering the card number, CVV code and either the telephone number associated with the card or the last four digits of the cardholder's Social Security number. If you are calling outside of the United States, you'll need to dial 1-925-675-6195 instead. If you need to activate a Bank of America Visa credit card, the number to call is 1-800-276-9939.
Use Your Debit Card
The Visa debit card will activate once a cardholder makes a purchase at any retailer and uses an already established PIN at checkout. It is also possible to activate the debit card at a Bank of America ATM. Simply insert your card and follow the prompts on the screen. These rules do not apply to Bank of America Visa credit cards, however.
Take Advantage of Online Banking
Both the Bank of America Visa debit and credit cards can be activated online. If you have not already enrolled in online banking, you'll first need to create an account by providing the last six digits of your card number and your full Social Security number. From there you'll need to choose an online ID and a pass-code. After the account is set up, log in and follow the steps to activate your card.
Download the Mobile App
Cardholders who are away from their home computers can download Bank of America's mobile app to an iPad, iPhone, Android device or Windows 10 device. Once installed, simply tap the Bank of America icon and enter your login credentials. Within the app, you have the ability to activate a debit or credit card by entering the required information.