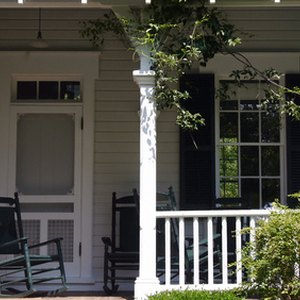 •••
home sweet home image by David Dorner from Fotolia.com
Buying a home is a major life purchase. Potential buyers spend hours driving through neighborhoods, attending open houses and interviewing real estate agents. If you're buying an existing home, make sure you take the time to review the public records on the home. Public property records contain valuable information including the location of the home, name of current owner(s), address(es) and name(s) of previous owner(s), dates of sale, description of the property, approximate value of the property and home sales in the neighborhood. This information is free for public inspection and is easy to access.
Search online for the county government office in which the home is located. If you can't find the county website, search the state website or go to State and Local Government on the Net (see Resources). This site links to thousands of U.S. government state and county offices.
Find a link to the recorder of deeds or county assessor where you live.
Enter the address of the property into the search field. County government offices vary in how much information they offer online. Some offices may offer you the complete property record online. Others may require you to order a record to be mailed. If you live close, it may be best to visit the office in person.
Call the county office if you can't find any information online.
Avoid buying a home with an existing lien; the holder of the lien can sell the home to collect on the lien even if the home has been sold to a new owner.

Public property records are free for your inspection; it's not necessary to pay anyone for access to these records.
References
Resources
Writer Bio
Carolyn Enright began working as a professional writer in corporate communications in 1992. Her work includes executive speeches, annual reports, newspaper and magazine articles, newsletters and online training modules. Enright holds a Master of Science in corporate public relations from Northwestern University and a Bachelor of Arts in American studies from the University of Notre Dame.