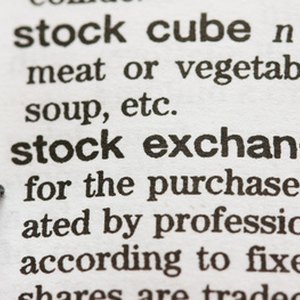 •••
stock exchange image by Christopher Walker from Fotolia.com
The stock market can be daunting for the beginning investor. There are thousands of stocks and a huge amount of information distributed by the financial media and Internet. There are many different ways to analyze the market and numerous strategies to make profitable investments. The first step is to understand the basics of the stock market.
Identification
There are two major stock markets in the U.S., the New York Stock Exchange and the Nasdaq stock market. These stock exchanges facilitate the trading of stocks between buyers and seller. To be listed on one of the exchanges, a company and its stock must meet certain minimum size, financial and reporting requirements. Stocks not listed on a stock exchange trade in the unregulated over-the-counter market.
Function
Shares of stock are ownership fractions of a corporation. The companies that trade on the stock market are owned by their shareholders. Investors buy and sell shares through the mechanisms of the stock exchanges where each stock is listed. Besides common stock, other types of securities trade on the stock market. American depository receipts (ADRs) represent stock shares of foreign companies held in trust by a U.S. bank. Exchange traded funds (ETFs) and closed end funds are types of investment companies whose shares trade on the stock markets.
Size
The New York Stock Exchange lists more than 8,500 individual securities with a collective market value of approximately $12 trillion. In March 2010, the NYSE had an average daily trading volume of 2.4 billion shares. The Nasdaq lists more than 3,100 companies with a collective market value of $3 trillion. The Nasdaq has daily volume in excess of 2 billion shares.
Effects
The value of stocks and the stock market is determined by two sets of factors. The fundamental valuation of a stock is based on the assets, revenues, profits and projected cash flow of the company. Stock investors are buying a piece of the company and expect the stock value to increase as the company generates sales and profits. The stock market is also driven by supply and demand. When stock values are increasing, investors want to buy more shares, which continues to push the value higher as the number of buyers outnumbers the sellers. The reverse happens when stock prices are falling.
Potential
It is easy to open an account with an online stockbroker and to start trading stocks. However, to be a successful investor or trader takes study, knowledge and discipline. Fear and greed rule the market, and investment guru Warren Buffet has noted that success in investing comes from being greedy when others are fearful and fearful when the market is greedy.
References
Writer Bio
Tim Plaehn has been writing financial, investment and trading articles and blogs since 2007. His work has appeared online at Seeking Alpha, Marketwatch.com and various other websites. Plaehn has a bachelor's degree in mathematics from the U.S. Air Force Academy.