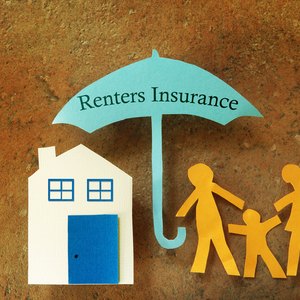 •••
zimmytws/iStock/GettyImages
If you're renting the place where you live, have you ever stopped to think about how much items like clothing, furniture, housewares and electronics would cost to replace? The cost would add up quickly. With the right type of coverage in place, you would be protected from paying this expense personally. AARP renters insurance is an affordable, comprehensive plan that can give you peace of mind.
About AARP Itself
AARP is a non-profit organization that is dedicated to helping people aged 50 and older "choose how they live as they age." It was founded in 1958 by Ethel Percy Andrus, a retired teacher from California. Formerly known as the "American Association of Retired Persons," this group is involved in advocacy for issues that matter to people over the age of 50, community service, research and global outreach.
Don't let the name of the organization fool you: AARP memberships aren't solely for retired people. About 12.6 million of AARP's 38 million members work either full- or part-time. Your employment status is never a factor in determining whether you can join the organization.
The organization offers a number of benefits to its members from third-party companies. Each one of these benefits is selected with great care in order to offer AARP members an advantage in their everyday life, while saving them some money.
What is Renters Insurance?
Renters insurance is a type of property insurance coverage. As the name implies, it is offered to people who are renting or subletting their home. This type of coverage isn't just available to apartment dwellers; you can also buy renters insurance if you live in one of the following types of rental accommodation:
Condominium
Duplex or Triplex
Loft
Single-family home
Studio
Townhouse
The policy protects your personal property (clothing, furniture, small appliances, electronics, household goods, etc.) from losses due to fire, water, theft, etc. You may not think that you will need protection from water damage if you live in a high-rise apartment.
Think about the consequences in a situation where a tenant had water damage from a leak that dripped down into your unit, damaging your clothes and electronics. If a fire occurred in the building, the fire department would use a large amount of water to deal with it, which could damage some of your personal items. This coverage would pay out so that you wouldn't be responsible for the cost of replacing these items personally.
A renters insurance policy also protects you if someone is injured while visiting your rental unit and needs medical care. The insurance pays for the injured person's medical expenses (up to the policy limits), instead of you being responsible for paying for them yourself.
This type of policy may also provide coverage for additional living expenses. This part of the policy comes into play if your home is rendered uninhabitable
Why Renters Need Insurance
Some renters assume that their personal belongings are covered under their landlord's insurance policy and they don't need to buy their own coverage when they move into a rental unit. This is not true.
The landlord's insurance policy usually covers damage to the structure of the building only. A tenant's personal belongings aren't covered for fire or flood damage. The tenant would have to pay to replace them.
Actual Cash Value Coverage
Actual cash value coverage pays out based on the value of your personal property at the time you make your claim. You wouldn't expect to get the same amount of money for used furniture, electronics and clothing as you would for new items, since they have lost some of their value in the time you've owned them due to depreciation and normal wear and tear.
To determine the actual cash value of an item that will be replaced for insurance purposes, the company subtracts the amount of depreciation from the replacement cost. To determine the amount used for depreciation, the insurance company designates the expected lifetime for an item. It then determines how much (as a percentage) of that lifetime is left as of the date of the claim. The percentage, multiplied by replacement cost, equals the actual cash value.
The formula for determining the actual cash value of personal items would look like this:
Expected Lifetime (determined by the insurer) x Percentage of Lifetime Remaining = Depreciation
Replacement Cost - Depreciation = Actual Cash Value
Why would someone choose this type of renters insurance coverage? It's generally more economical than a policy that covers the policyholder for the replacement cost value of their belongings.
Full Replacement Cost Coverage
In a situation where your personal property is destroyed or stolen, the insurance company must replace it with the same or a similar item. The insurer will not deduct any amount for depreciation.
This option will cost more than an actual cash value policy. However, it will provide you with enough financial protection to buy new items to replace everything in your rental home or unit at current prices.
How Much Coverage to Buy
Before you can decide how much renters insurance coverage to buy, you need to know exactly how much personal property you have that needs to be insured. To make an accurate record, you can go from room to room in your rented home and make a list of all the items that you own. Another option is to take pictures of your belongings, including the make and model, as appropriate.
You'll want to spend some time determining how much it would cost to replace everything you currently own. You don't have to come up with an exact figure. In some instances, the exact model of an item you currently own won't be available. You'll need to find something with similar features that you can use for comparison purposes.
How to Buy AARP Renters Insurance
The first step in buying AARP renters insurance is to become a member of AARP. You visit the AARP website to join. As of April 2019, the cost of a one-year membership is $16. (Special offers may be available for multi-year terms.) Once you sign up for an AARP membership, it renews automatically on the anniversary date.
Once you are an AARP member, you can access the advantages that come with membership in the organization, including being able to buy AARP renters insurance. This financial product is sold by The Hartford. This company has been in business since 1810 and has its company headquarters in Hartford, Connecticut. It sells insurance products through an extensive network of independent brokers and agents.
The Hartford has been the only nationally authorized direct home and auto insurance program for AARP's members for over 30 years. In this capacity, the company serves close to 38 million clients.
If you are looking for the best rates on renters insurance, you can often save money by bundling your home and auto insurance with the same company. The Hartford also offers auto insurance coverage to AARP members.
Before making a final decision about your renter's insurance, it's a good idea to get quotes from more than one insurance provider. Make sure that you are comparing similar levels of coverage so that you are making a fair comparison before you make your choice about where to buy your renter's insurance policy.
References
Writer Bio
Jodee Redmond is a freelance writer, blogger and editor who has been working full-time for over 15 years. She is a graduate of Centennial College and has worked as a tax consultant and a legal assistant. Her previous experience and boundless curiosity is a distinct advantage when writing about such varied topics as income tax, insurance, commercial property, business, construction, addiction, freelance writing and more.