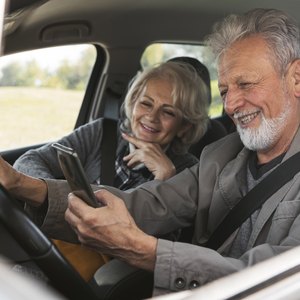 •••
Zorica Nastasic/iStock/GettyImages
For anyone over 50, an AARP membership is worth considering. Joining the nonpartisan, nonprofit organization with over 38 million members gives you access to privileges that only such large organizations can offer. These include group discounts and benefits, such as AARP car rental offers.
On average, you will need to spend $109 daily on car rental services. And typically, most people rent a vehicle for about 13 days, which means they would spend at least $1,417 for that time. That is a significant amount of money. Therefore, it makes sense to use low-budget car rentals where possible. And that is where offers like Budget AARP discounts come in.
How to Find the Best AARP Car Rental Deals
Below are tips on finding the best AARP car rental services.
​Choose your dates.​ Start by determining your available vacation dates. Decide when you want to rent a car and for how long.
​Look at the options.​ Determine what low-budget car rental services for seniors are available outside of AARP. You can use Priceline, Enterprise, Hertz, Booking.com and Expedia car rental comparison platforms, among others.
​Get quotes.​ Find out what kind of car rental deals are available on the price comparison sites and get several quotes using your available dates. For example, currently, there is no specific Enterprise car rental senior discount, so you would have to look elsewhere. These discounts will act as your baseline. And ensure you consider any additional benefits offered via these platforms.
​Register on AARP.​ Once you have noted the available offers outside AARP, register on the AARP site to open an online account and navigate to the AARP Travel section. Check out the car rentals links. And watch out for budget customer discount (BCD)-eligible offers, which imply that the available rentals can be discounted for you using a given discount code if you are an AARP member. Remember, there is a membership fee of ​$16​ per year, which you need to pay to enjoy those offers.
​Compare.​ Compare the deals based on the available vacation dates that you used to find offers outside of AARP. Typically, Avis car rentals and Budget AARP discounts can be as high as ​30 percent​ of the base rates, while Payless car rentals could be five percent cheaper.
​Consider the benefits.​ Don't just consider the discounts off the base prices. Also, think about other benefits that are offered alongside the AARP car rental discounts. For example, if you opt for an annual Zipcar car sharing membership, you could get it for ​43 percent​ cheaper via AARP in addition to obtaining a ​$40​ free driving credit. On the other hand, Budget, Avis and Payless may offer upgrades on compact through full-size car class bookings. In addition, you could get an additional driver at no cost with some of these companies.
​Choose among the offers.​ Pay attention to what offers make the most sense to you based on the dates you want to rent a car. And compare those quotes offered via AARP and those offered via price comparison sites outside AARP.
​Make a decision.​ If the AARP membership offers better discounts, you should keep it. However, if you can get better discounts outside AARP, you can cancel the membership you paid for and get a refund of the remaining balance in your account. But weigh your options carefully before deciding.
​Book your vehicle.​ Once you find the best AARP car rental deal, follow the instructions on booking a vehicle for your vacation.
Take Advantage of the Benefits
Assuming you would have paid $1,417 for 13 days, a 30 percent Avis AARP car rental discount would lower your costs to as low as $991.90. There is no doubt that performing a price comparison will take some time and effort on your part. But it will be helpful in cutting down your car rental costs significantly. So, be prepared to put in the work when finding the best AARP car rental deals.
References
Resources
Writer Bio
I hold a BS in Computer Science and have been a freelance writer since 2011. When I am not writing, I enjoy reading, watching cooking and lifestyle shows, and fantasizing about world travels.