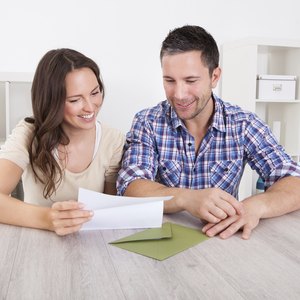 •••
AndreyPopov/iStock/Getty Images
Knowing what your checking account number is an important piece of your financial information. The information will be located on a variety of bank documents since it is a unique identifying number specified for only you. By locating it on your check, you can more easily reconcile any discrepancies in your financial information.
Locate your bank account information. This will include the information you received upon opening your bank account. Information will include the account number, specifically assigned to you. If your account is not new, you will find the information on your bank statement. If you cannot find your account number anywhere, call the bank to obtain it. The purpose of this step is to make certain that your checking account number is the same on both your check and subsequent banking materials.
Obtain either a temporary, blank or canceled check. Look on the bottom portion of your check for a series of printed numbers.
Find the routing number to begin deciphering the banking information. The nine-digit number that is on the far left side is your routing number. This series of numbers will have an elongated black vertical symbol followed by a bold colon symbol preceding them. The routing number will have the same bank symbols of an elongated black vertical mark followed by a bold colon after them.
Find your check number. Look at the series of figures on the far-right bottom portion of your check. That is your check number and needs to correspond to the number printed in the upper right-hand portion of your check. On blank and canceled checks, the check number will be printed by the bank. There are no banking codes or symbols surrounding the check number.
Find your checking account number. Examine and locate the series of numbers in-between the routing number and check number. This series of figures will be 10-digits. This series of numbers will have two short vertical lines and a solid black square following them. Make certain that number corresponds to the one located on your bank identifying information (such as your checking account bank statement or opening account card).
A temporary check may contain your printed name on it depending upon your financial institution.
Some temporary checks do not have checking account information printed on them. It depends upon your financial institution.
References
Accounting: The Basis of Business Decisions; Walter B. & Robert F. Meigs; 2008
Resources
Writer Bio
Crystal Welch has a 30-year writing history. Her more than 2,000 published works have been included in the health and fitness-related Wellness Directory, Earthdance Press and Higher Source. She is an award-winning writer who teaches whole foods cooking and has written a cookbook series. She operates an HON-code-certified health-related blog with more than 95,000 readers. Welch has a B.B.A. from Eastern Michigan University.