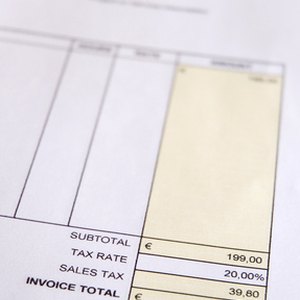 •••
fattura 2 image by Rido from <a href='http://www.fotolia.com'>Fotolia.com</a>
The Internal Revenue Service (IRS) permits the use of an agent or attorney-in-fact to act for you or to look at your income tax returns. Form 8821 allows a designee to examine your tax returns without acting on your behalf. An agent or attorney-in-fact also can represent you in tax hearings. This must be a person authorized to appear before the IRS and be someone who is an agent authorized to act on your behalf. The authorization form is a power of attorney in a special format approved by the IRS, known as Form 2848.
Access Form 2848 from the IRS website (see Resources). This is a PDF file that will allow you to complete the information on the screen and save it on the form. Complete your name and address in the taxpayer information box, along with your Social Security Number and daytime telephone number.
Fill in the names of representatives below your personal information, providing complete name and address, telephone number, fax number and Centralized Authorization File (CAF) number. You might not have a CAF number available, as the tax practitioner might get the number once the IRS approves the power of attorney. Each person you name will have to sign the form before submission.
Prepare a list of the tax matters you have outstanding and place this information with tax form numbers and years at issue in the next blanks. Check the box in line 4 if the CAF number is for a special use not recorded. Some reasons why you might check this box are requests for a private letter ruling or technical advice, or request for an Employer ID Number (EIN). Claims for a refund under Form 843 and corporate dissolution are special use, as are requests to change accounting methods or periods, and applications for recognition of exemptions under 501(a), 501(c)(3) or 521 sections of the Internal Revenue Code relating to corporations that hold property for charitable organizations, charitable organizations and farmer cooperatives. Some employee benefit plan requests are special use too.
Enumerate any additional powers, such as a permission to substitute someone else as your agent or sign a consent to disclose your information to another person, delegated to your agent on line 5. Initial line 6 to allow your agent to accept refund checks on your behalf. This does not authorize cashing the checks. Check box (a) in line 7 so that notices and communications will be sent to you with copies to the first two representatives you list. Check box (b) if you do not want representatives to get copies.
Attach any power of attorney that you do not want to revoke. Filing of a 2848 will not revoke Form 8821. Save and print the form. Sign the Form 2848 as taxpayer; if you filed a joint tax return, both you and your spouse will need to sign. If you and your spouse have separate agents, you will need to submit two Form 2848 filings. All partners must sign for a partnership, and an officer having authority to bind the taxpayer must sign for a corporation. The taxpayer signs first and dates the form, and the representative accepts the agency designation by signing, providing the code for the state and dating the form. Be sure the Designation of Representative portion is completed or the form will be returned.
Fax or mail the completed form to the correct IRS office. If you live in a western state including Texas and Missouri, send the form to:
Internal Revenue Service 1973 North Rulon White Blvd. MS 6737 Ogden, UT 84404
If you reside in any eastern state, including Michigan and Arkansas, send the form to:
Internal Revenue Service P.O. Box 268 Stop 8423 Memphis, TN 38101-0268
References
Writer Bio
Linda Richard has been a legal writer and antiques appraiser for more than 25 years, and has been writing online for more than 12 years. Richard holds a bachelor's degree in English and business administration. She has operated a small business for more than 20 years. She and her husband enjoy remodeling old houses and are currently working on a 1970s home.