Basic Budget Plan for Low-Income Family
by Jake Wayne ; Updated August 14, 2017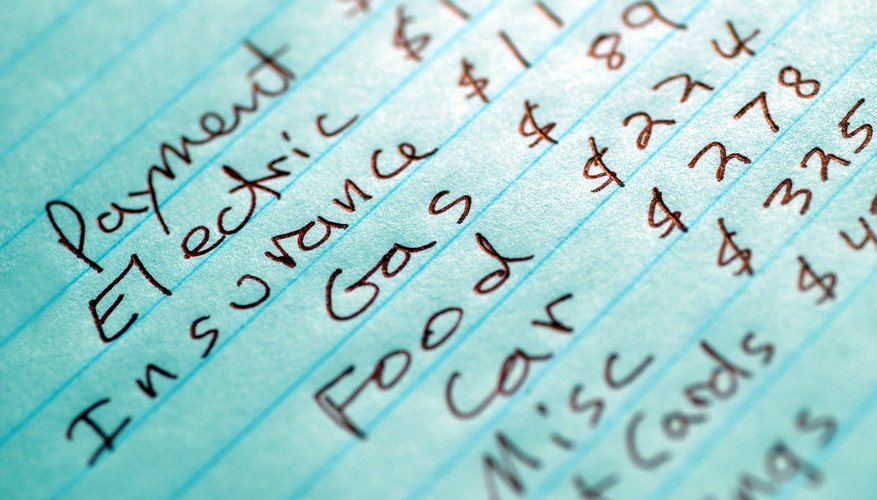 The key to maintaining a healthy budget is to spend less than you make each month. If you don't make much to begin with, this goal can be a real hardship. It can be tempting to dip into credit or savings, but doing so puts yourself that much farther behind financially when you get your next paycheck.
Benefits
Financial guru Dave Ramsey identifies three benefits of establishing a budget. A budget gives you a clear picture of where you are financially, which is the only way for you to start moving your family to where you want to be. A budget helps you avoid expensive overdraft fees, late charges and other landmarks of the low-income lifestyle. Perhaps ironically, a third benefit of a budget is that you can spend some money, albeit a small amount, guilt free. If you earmark $10 each month for pleasure, you can spend it without worry spoiling the experience.
Preparation
Ramsey recommends monitoring your expenses to the penny each month, or, if possible, every week or two weeks. Ramsey lists two advantages to this practice. First, you'll be able to spot mistakes or coming problems before they happen. Second, it helps you really understand where the money goes. David Bach, writer of "The Automatic Millionaire" and force behind FinishRich.com, eloquently expresses this concept by describing the "latte factor." Named after how much Bach was surprised to find he spent on lattes every month, this is his term for small daily purchases that add up to real money when tallied over a year. Other possible latte factors include fast food stops, cigarettes or overdue fees from the video store.
Types
Two common examples of budget organization are categorical and chronological. A categorical budget tracks money by what it's spent on, such as money for food and money for entertainment. A chronological budget tracks money by when it's spent, especially as compared to when the next paycheck comes in. According to Eric Tyson in "Personal Finance For Dummies," both systems have their advantages and disadvantages. For example, a categorical budget can help track Bach's "latte factor," but a chronological budget guards more effectively against overdraft and overdue fees.
Purpose
The chief job of a budget is to help a family plan its expenditures, says Ramsey. This is especially important for low-income families. Where a comfortable family can weather financial surprises, families on the financial ropes can suffer serious hardship from even a $100 surprise. An effective family budget not only tracks what has been spent but predicts and cushions against upcoming expenses.
Tools
Family budget tracking starts by gathering financial information. This includes all accounts that receive deposits, all utility bills and all loans that require a regular payment. These documents paint a picture of a family's monthly financial flow. A spreadsheet program is one of the best tools for turning that raw information into a usable budget, but a calculator and pencil will do.
References
"Total Money Makeover"; Dave Ramsey; 2008
"The Automatic Millionaire"; David Bach; 2005
"Personal Finance For Dummies"; Eric Tyson; 2009
Photo Credits
Thinkstock/Stockbyte/Getty Images
Cite this Article
Choose Citation Style
Wayne, Jake. "Basic Budget Plan for Low-Income Family." , https://pocketsense.com/253909-basic-budget-plan-for-low-income-family.html. 14 August 2017.
Wayne, Jake. (2017, August 14). Basic Budget Plan for Low-Income Family. . Retrieved from https://pocketsense.com/253909-basic-budget-plan-for-low-income-family.html
Wayne, Jake. "Basic Budget Plan for Low-Income Family" last modified August 14, 2017. https://pocketsense.com/253909-basic-budget-plan-for-low-income-family.html
Note: Depending on which text editor you're pasting into, you might have to add the italics to the site name.