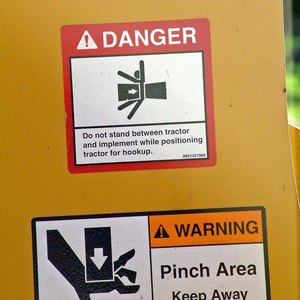 •••
safety first image by Greg Pickens from Fotolia.com
Offering an environment free from known safety hazards is required by law, according to the Occupational Safety & Health Administration, or OSHA. Ensuring a safe workplace for employees and customers is essential to all businesses, regardless of size or industry. A lack of proper safety precautions and awareness can lead to accidents, added business expenses and missed work days. Cultivating a work environment that promotes safety in all areas of a business signifies responsible management and an attention to employee welfare.
Appoint a safety coordinator for your business. Depending on the size and business activities of your company, this position may require part-time or full-time attention. This coordinator should be responsible for creating training materials, identifying safety concerns and coordinating the safety strategy for the business. When needed, the safety coordinator should be responsible for managing inspections from regulatory agencies and OSHA.
Identify safety hazards in your workplace. Review routine processes that involve chemicals or caustic agents, extreme heat or cold, sharp objects and machinery. Include a review of problems with the physical structure or layout of your buildings and facilities.
Correct any structural or equipment safety hazards to illustrate the company's dedication to safety. Fix cracked sidewalks, add safety gear to machinery and offer an easy method of storing routine safety gear.
Create training materials for all identified safety concerns in your business. These materials can be visual, written or video guides. Include multiple training options that are appropriate to all employee levels. Training should be offered for new employees, employees who change jobs and as a routine requirement to keep employees mindful of safety.
Place signs on or near dangerous workplace activities. Visual reminders of safety can help promote an atmosphere of enhancing safety awareness. Consider including a safety chart that demonstrates how many days the company has been accident-free to promote the responsibility all employees have to ensure a safe workplace.
Incorporate safety objectives into company goals. Connect company goals to performance evaluations and compensation. Promote workplace safety throughout the company by tieing bonuses and advancement opportunities to safety objectives.
Establish a method for all employees to report safety concerns or violations in a confidential manner. Encourage employees to help the company maintain a safe workplace by notifying managers or the safety coordinator whenever a dangerous situation appears.
Include emergency preparedness as part of your safety training and planning.
References
Tips
Include emergency preparedness as part of your safety training and planning.