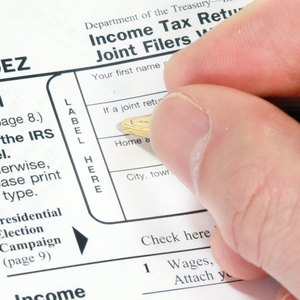 •••
Christophe Testi/iStock/Getty Images
Internal Revenue Service Form 1040EZ is the simplest federal tax return form. That's a plus if you qualify to use this short form rather than the 1040 or 1040A. But be careful. You can't claim any tax credits except the Earned Income Tax Credit, and you can't write off most tax deductions – not even IRA contributions. That can cost you a lot of money in extra taxes, so be sure 1040EZ is the right choice for your tax situation.
Who Qualifies to Use 1040EZ
You can file a federal tax return using the 1040EZ only if you had no more than $100,000 in income and less than $1,500 in interest earnings. You must file as single or married filing jointly and with no dependents. Neither you nor your spouse can be legally blind or age 65 or older. If you have capital gains or losses to report, you aren't eligible to use 1040EZ. Taxpayers who owe alternative minimum tax or household taxes on wages paid to an employee may not use 1040EZ. Your income must consist only of wages, tips, interest, unemployment benefits, taxable scholarships or fellowships and Alaska Permanent Fund dividends.
References
Writer Bio
Based in Atlanta, Georgia, W D Adkins has been writing professionally since 2008. He writes about business, personal finance and careers. Adkins holds master's degrees in history and sociology from Georgia State University. He became a member of the Society of Professional Journalists in 2009.