10 Ways to Make Extra Money
by MarissaCroft ; Updated July 27, 2017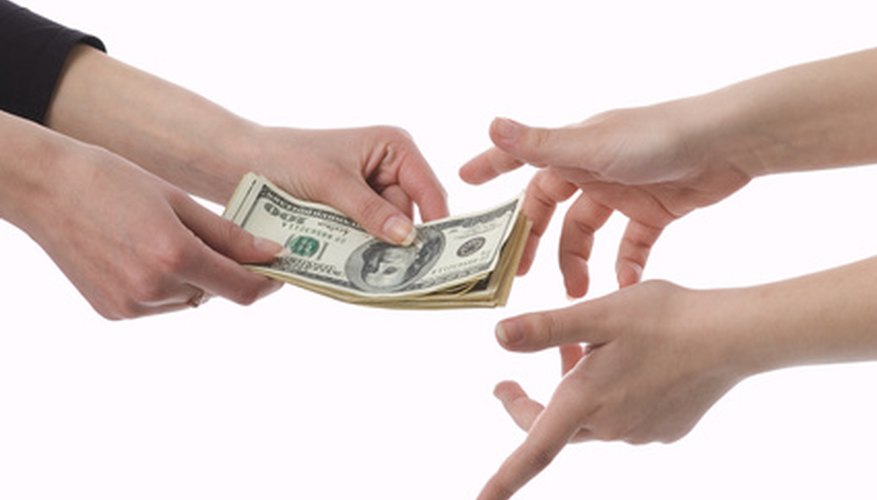 If you are frustrated about not earning enough money though your job, you can look for other sources of income. If you feel you are living from paycheck to paycheck, finding a way to make extra money might be necessary. If you need extra money to save for your children's education, your retirement or to keep up with your bills, there are several ways to increase your income such as making money online, writing articles, and even becoming a mystery shopper.
Become an online tutor. You can visit websites such as tutor.com and e-tutor.com. Some sites might require that you have a degree. If you enjoy teaching others and have knowledge in a certain field, this can be a good opportunity. Depending on the site you are working with, you may have to work a specific amount of hours each week.
Make money by writing. You do not need to be an expert in English in order to write articles online. As long as you can write a sentence you can earn money from writing. You can find sites on the Web that pay from $5 to $25 per article. Break Studios (breakstudios.break.com) is one site where you can make money by writing articles. You may have to submit a sample of your writing when applying with a company before you can start working.
Become an assistant for bloggers and Internet marketers. Many Internet marketers need people who can write articles for them. Another way to earn cash is by submitting their articles to article directories and other social networking sites. You may need to get trained for this work but it will become very simple after you learn it. If you would like to work for an Internet marketer, you can put an ad on Odesk (odesk.com) stating your skills and salary requirement. They will most likely ask for a sample of your work.
Become a mystery shopper. Mystery shopping companies pay individuals to "pose" as a customer in a store and to evaluate the level of customer service they receive. Pay can be anywhere from $7 to $100 per shop. The more companies you sign up with, the more money you can earn. Mystery shoppers go to banks, restaurants, department stores, spas and even hotels. You should never have to pay to sign up with a mystery shopping company.
Earn money three ways by building a website. Start your own website and make money from it by using Google Adsense. Google will put advertisements on your site, and you will earn money any time someone clicks on an ad. You can also sell advertising space on your website. Search for related businesses and tell them how advertising on your page can help them. You can also make money on your website by becoming an affiliate marketer. As an affiliate marketer, you will earn commission when you refer someone from your site to another business. For example, if you have a link on your page that sends people to Target's website to buy some lamps, you will get a commission when someone makes a purchase through your link. You will need to apply for an affiliate company before you can put links on your site. Visit sites such as Linkshare and Commission Junction to find stores that offer affiliates.
Sell things you no longer need. You can sell old textbooks from college or DVDs you no longer watch on sites such as Amazon and eBay. If you have clothes you no longer want and they are in good condition, take them to a consignment store that will pay you a portion of the resale value of your clothes. Search your area for consignment stores.
Become a promotional model. Promotional models are hired to promote products and brands at certain events. Their job is to interact with customers and encourage interest in the product. Both men and women are hired as promotional models. Many find this job to be easy and fun. Be warned, you may spend a lot of time on your feet. The ideal candidate for a promotional model is someone who is outgoing, attractive and friendly. Companies often ask for pictures of potential candidates before hiring them for an event. The pay for this can be from $12 to $30 an hour. Start with sites such as Encore Nationwide (encorenationwide.com) and Attack Marketing (attackmarketing.net).
Make money taking surveys online. Taking surveys can result in a lot of spam, so create a new e-mail address for surveys. The surveys you take will vary in length depending on the company you work through. Sign up for many survey companies as possible. These sites will ask you to fill out a profile. Complete as much of it as you can. This will ensure that you will get contacted for as many surveys as possible. Complete your surveys on a consistent basis. Many sites will send you more surveys if they see that you are completing them. Never pay to sign up with a survey site. Go to sites like Survey Savvy (surveysavvy.com) and Esearch (esearch.com) to find surveys.
References
Photo Credits
money makes money image by Andrey Andreev from Fotolia.com