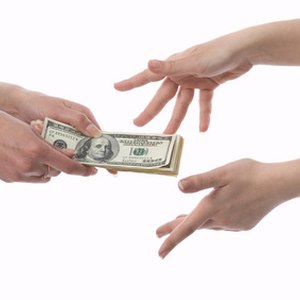 •••
money makes money image by Andrey Andreev from Fotolia.com
Sometimes there are occasions when friends or family members are in need of a monetary loan and they come to you for the cash. Financial MSN columnist Liz Pulliam Weston advises people who are in this situation to make it a personal policy to not lend money to friends or family because of the strains it places on relationship. But many people find it hard to deny a request from family and friends in need. When this is the case, a contract (or promissory note) should be drafted and signed by both parties to ensure that all debts are paid in a timely manner.
Clearly state the type of contract you are dealing with to begin. When lending money, make sure the phrase "Contract" and/or "Promissory Note" appears at the beginning of the document so there are no futures argument that the money being a gift.
Write down identifiers for the parties involved and the date. Do not just rely on signatures to identify the parties mentioned within a contract; make sure the full legal name of each person involved is written on it. Add identifiers for each person, too, especially if they have a common name. Identifiers can be the person's home address and/or birthday. Date the top of the contract, and provide a space for each party to write down the date next to their signature.
Set clear terms and communicate them. Tell the borrower verbally and in writing you expect to be paid back in full. Specifically write down how much you are to be paid. Discuss a payment plan in the contract: how much the payments will be, their frequency and the dates you should receive them. Also make the consequences of a late payment clear, along with any interest you plan to charge.
Sign the contract in the presence of a notary public. Make the loan official and help the borrower know you are serious about getting your money back; only sign the contract in the presence of a witness. Make a copy of the contract for the borrower and keep the original in a safe place.
Plan for the borrower to miss at least one at least one payment to you. Remember, if this person was good with money, they would not have needed to borrow it from you.

Attach a payment schedule to the loan contract if the other person will be paying you in installations. Make sure the contract states the payment schedule is attached.
References
Writer Bio
Flora Richards-Gustafson has been writing professionally since 2003. She creates copy for websites, marketing materials and printed publications. Richards-Gustafson specializes in SEO and writing about small-business strategies, health and beauty, interior design, emergency preparedness and education. Richards-Gustafson received a Bachelor of Arts from George Fox University in 2003 and was recognized by Cambridge's "Who's Who" in 2009 as a leading woman entrepreneur.