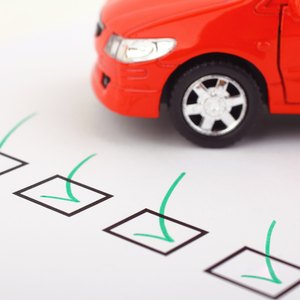 •••
Aslan Alphan/iStock/GettyImages
If you're buying a new car, that car's history likely involves rolling off the assembly line and waiting around on a dealership's lot. But once a car has some mileage on it, its history isn't quite as straightforward. With a vehicle history report, car buyers can determine if the car, truck, van or SUV you're about to buy has ever been through an accident or natural disaster.
What Is a Vehicle History Report?
When a vehicle is manufactured, it's issued a vehicle identification number (VIN). This VIN number is unique to that automobile and becomes that vehicle's fingerprint. No matter who owns the car over the years it's in circulation, any activity will be recorded based on that VIN.
Very few vehicles have one owner from the time they come off the assembly line to the time they're destroyed. Once the first owner sells it, that vehicle then becomes a used car, and the transfer is logged on its history. Any other events that happen are recorded by law enforcement or your auto insurance provider and go on a permanent record connected to that VIN.
What Is a VIN?
A vehicle identification number is a unique ​17-character​ code that is associated with each vehicle. Prior to ​1981​, VINs varied in length from ​11 to 17 characters​, but most vehicle reports will only accept VINs that are ​17 characters​ in length.
A car's VIN is a combination of capital letters and numbers and can usually be found in these three locations:
The dashboard on the driver's side of the vehicle
Your insurance policy and/or your insurance cards
Your vehicle title and registration
When you shop for a new car, you can get that car's history by pulling a report. But to access that report, you need the VIN, which you can usually find on the dashboard. Yes, you can get the seller to give you the VIN, but it's best if you see it yourself and either jot down the VIN number or take a picture of it with your phone.
Purpose of Vehicle History Reports
Buying a used car can be risky. There could be unseen damage that will cause you issues weeks, months or years after you make the purchase. Even if you're buying from a car dealership, there are no guarantees, and lemon laws don't offer much protection for used car purchases.
But you do have some protection against a deceptive seller. You can pull a vehicle history report using only the VIN number. Any incidents that have been recorded on that vehicle will show up, even if the seller doesn't disclose them to you. That's important since there's more to a car's history than the reading on the odometer.
Where to Get History Reports
The first place to start if you want a history report is with the seller. If you're buying from an automotive dealership, they should be happy to provide a free vehicle history report. Many dealerships and used car lots pay for a subscription with the most popular services and can pull a report at no cost to them.
The two most popular reporting services are AutoCheck and CARFAX. If you're buying these reports yourself, they can be pricey, starting at ​$25​ but running as high as ​$100 or more​. But if you're buying a car from a private seller, the extra expense will be well worth it if it keeps you from buying a lemon.
The National Motor Vehicle Title Information System provides free VIN reports, although they will be shorter than what you get with a paid version. You can also use the National Insurance Crime Bureau's VINCheck® Lookup to find out if a car has been reported as stolen or as a salvage vehicle.
What to Look for
There are very specific things to look for in any vehicle history report you pull. They include:
​Salvage title​: One of the most important words to look for on a vehicle history report is "Salvage." A salvage title vehicle is one that was deemed "beyond repair" by an insurance company and therefore totaled. A mechanic then did what it took to make the vehicle drivable, leaving a vehicle of questionable quality for someone to unknowingly purchase.
​Accident history​: The most important thing in any vehicle history is the list of any accidents you may have been in. A free VIN check may not provide this. CARFAX gathers information from state DMVs, insurance companies, collision repair shops and law enforcement agencies, making those services well worth the extra money.
​Stolen​: If you're buying from a private seller or sketchy car lot, you may want to pull the NICB's report to see if the car was ever reported as stolen but not recovered. Unless you want the police showing up at your front door, avoid buying a stolen vehicle at all costs.
​Titles in multiple states​: If the car has lived an adventurous life, moving from one state to another, the owners could be trying to hide past negative events from the title.
​Flood damage​: Standing water can do a serious number on a car. If flood damage is mentioned anywhere on a title, decline to go further. But it may not always be marked. Look for signs on the history report that flood damage might be in its history, such as having been moved from an area where a flood recently occurred.
Vehicle History Reports and Purchases
A large part of car buying is negotiating. When it comes to negotiating a car price, knowledge is power. A vehicle history report gives you a full picture of the used car you're considering buying. You can use the information to set a price.
In addition to the vehicle history report, you should also look at the market value listed with Kelley Blue Book. This isn't a fixed figure. You can identify the value of the make, model and year of the vehicle based on whether it's in excellent, very good, good or fair condition. You can then use this information to make an offer on the car.
Reliability of Vehicle History Reports
The truth is, there's no guarantee that any report you pull will detect every single issue. Even the best report relies on information that's been reported. So if an accident, natural disaster, theft or shady title doesn't show up when the reporting agencies create the report, you won't know about it.
But both AutoCheck and CARFAX offer guarantees. With AutoCheck's buyback protection, you'll be refunded up to ​110 percent​ of the purchase price if a state-reported issue was missed. This only applies to issues that would have been reported by the state, not commercial sources.
CARFAX's guarantee has similar limitations. If the title issue was reported by the state's DMV and not included on the report, CARFAX will buy the vehicle back. It's important to read the fine print in your contracts to see exactly how this works.
In addition to reviewing a vehicle history report, you can also have an independent mechanic take a look at any car you're thinking about buying. This can uncover many of the issues that a vehicle history report might be hiding. If you're considering buying a vehicle that has questionable items on a title, you can also have your mechanic take a look at the car and offer advice.
References
Writer Bio
Stephanie Faris has written about finance for entrepreneurs and marketing firms since 2013. She spent nearly a year as a ghostwriter for a credit card processing service and has ghostwritten about finance for numerous marketing firms and entrepreneurs. Her work has appeared on The Motley Fool, MoneyGeek, Ecommerce Insiders, GoBankingRates, and ThriveBy30.