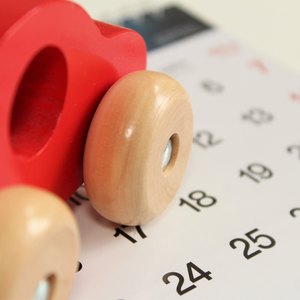 •••
Zmaj88/iStock/GettyImages
If you own or lease a car, you need auto insurance to protect yourself against damage or loss. Sometimes, though, you only need insurance for a brief period of time. Temporary car insurance lets you take out a policy that will cover you for a short timeframe.
What Is Car Insurance?
An auto insurance policy is designed to protect your belongings against unexpected calamities. You sign a contract with an insurance company for your home, your vehicles and even your health. With auto insurance, you pay monthly premiums in exchange for protection. If your vehicle is stolen or damaged, you file a claim and the insurance company compensates you to repair or replace it.
Choosing a car insurance policy requires deciding the coverage you want, as well as the deductibles. Lower deductibles and more coverage mean you'll have less out-of-pocket expense if you do have a claim. But higher deductibles and reduced coverage give you lower premiums each month.
Types of Car Insurance
When you're shopping car insurance quotes, you'll notice some terms keep coming up. There are six major coverage options you'll be offered when you're setting up a policy.
Liability: This coverage is limited to property damage and bodily injury you cause with your vehicle. It does not cover damage or property injury for you or your vehicle.
Collision: If you want your vehicle covered, this is the coverage you need. This will cover the cost to repair or replace your car if you're at fault in an accident or the other driver doesn't have insurance.
Comprehensive: Accidents aren't the only way your car can suffer loss. Comprehensive coverage takes care of your vehicle if your loss is due to a natural disaster or your car is stolen.
Personal injury protection: This coverage helps with any medical bills you have as the result of an accident. You may see this referred to as "no-fault insurance."
Medical payments: This type of insurance also covers medical bills. It's designed to supplement any health insurance you have.
Uninsured/underinsured motorist coverage: Although auto insurance is required in almost all states, some people drive without insurance anyway. This coverage can take care of any loss you suffer in an accident that's the fault of an uninsured driver.
What Is Temporary Auto Insurance?
To get a car insurance policy, you'll usually need to sign up for a six-month or one-year term. Pay-as-you-go insurance isn't a normal option when you're shopping for auto insurance. But if you live in an area with access to public transportation, you may not have the need to sign up for six months or a year of auto insurance. That's where the need for short-term car insurance comes in.
You might need short-term insurance if you plan to be renting a car or you're taking turns driving on a long trip with a friend. For those who do typically drive, temporary insurance could become necessary if you've let a policy lapse and you need something to pick up the slack. But it's important to carefully research any insurer offering temporary plans to make sure you're getting the quality of coverage you need.
What Does Temporary Insurance Cover?
Insurers advertising temporary car insurance promise a car insurance policy that covers you for small periods of time. This could be a week, two weeks or a full month. Some even offer policies that cover you for a few hours or a day.
A temporary plan for car insurance covers the same types of loss that you'd get with a six-month or yearly insurance policy. You would choose the coverage you need, whether it's liability, comprehensive or collision, and set your deductibles. This varies from one insurer to another, of course, so it's important to shop around.
How Temporary Car Insurance Works
Short-term car insurance is sold by a smaller selection of insurance companies than longer-term policies. Whether you're buying it for yourself or a family member, it's important to first shop around. Once you've decided on a policy, you'll complete an application and sign documents just as you would with any other insurance.
Often, temporary car insurance has a waiting period before coverage kicks in. Temporary car insurance coverage may give you short-term plans, but it's not always a way to get insurance quickly. Once your coverage is up, you'll need to either have auto insurance lined up or plan not to drive in a state where auto insurance is required.
Cost of Temporary Car Insurance
The most recent data available shows that in 2017, auto insurance cost ​$1,004.58​ on average. That's ​$2.75​ a day. As you're pricing temporary auto insurance, it's important to keep that in mind. A one-month policy would cost ​$82.50​ at the ​$2.75​ a day rate.
Since costs vary from one insurer to another, it's important to price insurance premiums to see what you'd pay for temporary insurance against what a six-month policy would cost. You can always take out a longer-term policy, then cancel it once you no longer need it.
Finding Temporary Car Insurance
The biggest problem with temporary auto insurance is how hard it is to find. You'll probably start with your own insurance company, only to find six months is the shortest term offered. Even shopping other big-name insurers, you'll find temporary insurance isn't among their policy types.
The problem with dedicated insurers promising one-day, one-week or one-month insurance plans is that it's often a bait-and-switch. They'll invite you to input your information in exchange for quotes on temporary insurance, only to reveal, oops, it just happens to not be available. You'll then be redirected to a form to input your information for a six-month policy.
If you search online, you'll find multiple lists of "best temporary car insurance" providers. On the surface, these lists look promising since they name some of the top insurers in the industry. But when you click over, you find they don't offer temporary auto insurance and the companies that claim they do are unfamiliar names.
Alternatives to Temporary Car Insurance
Temporary car insurance is not only tough to find, but it's also often not the best idea. If you need insurance for a short time, here are some alternatives to consider.
Six-month policy with cancelation: You can usually cancel your auto insurance at any time, although there may be a fee with that. Look at the coverage terms before you sign a policy and, if cancelation is allowed, pay close attention to the fees. You may find it's cheaper than you'd pay for short-term insurance.
Usage-based auto insurance: If you have access to a vehicle but you rarely drive, usage-based insurance could be a good option. With usage-based insurance, your mileage and driving behaviors are tracked and your premiums are adjusted accordingly.
Low-mileage insurance: Instead of tracking your driving, some insurers offer short-term insurance. Nationwide has a policy that lets you pay by the mile and Progressive has a policy that bases your premiums on the miles you typically drive.
Non-owner insurance: If you don't own a car, you can qualify for something called non-owner insurance. This is for driving a car that doesn't belong to someone in your household, in which case you should be listed on that person's insurance policy. This is liability insurance, so it will only cover damage to other people and property.
Rental car alternatives: If you're looking for car insurance quotes because you're planning to drive a rental car, it may be unnecessary. Credit cards like Visa now offer rental car collision damage coverage if you use your credit card for the rental. Rental companies also offer optional insurance that you buy at the time you rent the car.
Adjusting Your Existing Coverage
Instead of shopping around for short-term car insurance, you can also simply adjust the coverage you already have if you're insured. This is ideal for parents whose young drivers are heading off to college. It can also work if you need short-term insurance because of a lifestyle change that impacts your driving.
To save money on your insurance, check to see if your insurer lets you adjust your coverage. If you have a college-aged student on your policy, you may be able to take that person off while at school, for instance. If you won't be driving for a while, let your insurer know and they may agree to put your policy on hold.
Insurance Coverage for Household Members
In some cases, policyholders look for temporary auto insurance because they want other people to drive their car. If members of your household have reached driving age, for instance, but don't have their own cars, temporary auto insurance may be seen as a way to let them take your car on a quick trip or drive for a few days while you're out of commission.
If someone's in your household, though, you should look to your own policy. Typically, car insurance covers members of your household as long as you let your insurer know about it. In fact, with some policies, you're required to list all the members of your household who have reached legal driving age just in case. In that instance, you wouldn't need a separate policy, temporary or otherwise.
Adding Someone to Policy Temporarily
Another option is to add someone to your existing car insurance policy for a short timeframe. Check with your insurance company on how to do this since it varies from one provider to another. But this is called a permissive user clause and it covers anyone who might be driving your car, even if that person isn't a household member.
With permissive use, instead of setting up a temporary car insurance policy, a non-owner simply joins your existing policy. This could be a nanny, relative or friend who will be driving your car for a period of time for whatever reason. It's important, once this person will no longer be driving your vehicle, to remember to remove that person from your policy.
Before you add someone to your policy, make sure your car insurance covers any accidents or injuries they might cause. You'll likely need to provide full contact information for the person, including any recent traffic violations or accidents, as well as information on how long the person has been driving.
Short-term car insurance is a great concept, but it's not quite what it's cracked up to be. If you want temporary insurance, you'll probably have to go through a company that's unfamiliar to you, so it's important to research online reviews to make sure it's a reputable one. There are better alternatives to temporary insurance that will save you money while getting the same results.
References
Resources
Writer Bio
Stephanie Faris has written about finance for entrepreneurs and marketing firms since 2013. She spent nearly a year as a ghostwriter for a credit card processing service and has ghostwritten about finance for numerous marketing firms and entrepreneurs. Her work has appeared on The Motley Fool, MoneyGeek, Ecommerce Insiders, GoBankingRates, and ThriveBy30.