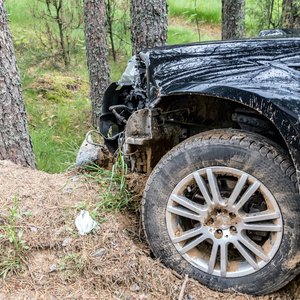 •••
Vladyslav Danilin/iStock/GettyImages
Every time you get behind the wheel, you're at risk of an accident. Auto insurance helps protect you in case you're in one, but some types of policies only cover damage and personal injury to others. If you want coverage that will protect you and your vehicle, you'll need something called full coverage car insurance.
What Is Car Insurance?
Motorists face liability by being on the road. If you have an accident, you may have costly repairs to your vehicle, as well as medical bills for any injuries you suffer. You'll also be responsible for any damage you cause, including injuries to others.
Car insurance is designed to protect you and your loved ones. You sign a policy that covers any personal injury or property damage caused while you're behind the wheel. The scope of that coverage depends on the policy you select.
Liability Versus Full Coverage
When you're choosing an insurance policy, you'll first be asked what type of coverage you want. You'll likely need to choose from these two coverage types.
Liability: Liability insurance is designed to protect you against liability in an accident where you're at fault. It covers property damage and bodily injury to others, with no coverage of yourself or your vehicle.
Full coverage: Full coverage car insurance doesn't just pay to repair the other vehicle. You'll also get coverage for personal injury and vehicular damage to everyone involved. With full coverage, your car is covered whether you slam into another vehicle or a natural disaster totals it.
Comprehensive Versus Collision
If you opt for full coverage auto insurance, though, you'll have another decision to make. There are also two types of full coverage.
Collision coverage: This type of coverage pays to repair your car if your accident involves another object or vehicle. It also covers damage due to potholes.
Comprehensive coverage: This coverage includes all the other damage that happens that isn't related to colliding with another object or vehicle. That includes theft, damage to your windshield, vandalism and natural disasters.
What Is Full Coverage Insurance?
When you hear the term "full coverage," what's really being discussed is a combination of insurance types. It includes liability coverage, as well as coverage for your own car. It may also cover specific personal injury policies that cover medical payments and coverage if you're hit by an uninsured motorist.
As appealing as full coverage insurance sounds, it's important to note that you'll pay more than you would if you stuck to only liability coverage. You can reduce the premiums you'll pay by choosing a higher deductible. If you do that, you could be responsible for paying hundreds of dollars out of pocket if you have a claim.
What Full Coverage Insurance Covers
The problem with defining full coverage insurance is that there's no one fixed definition. If you tell an insurance company that you want full coverage, you'll likely still get a list of coverage options and be asked to eliminate or adjust any you don't need. Full coverage implies that damage to personal property and bodily harm are covered by your policy if you're in a car accident.
But there are other items that some insurers may consider part of full coverage. If your policy pays for a rental car in the event that your car is out of commission after an accident, that could be considered full coverage. Some insurers may also ask if you want gap insurance, which covers the difference in value if damage to your vehicle exceeds what it's worth.
How Full Coverage Insurance Works
If you're worried about being underinsured, you may be wondering how being fully covered would work. Once your policy covers your vehicle as well as any damage, you can file a claim. That applies even if you're hit by an uninsured motorist or you suffer damage due to a natural disaster.
Even if your insurance covers damage and injury, there will be limits. You decide those limits and sign off on them when you take out and renew the policy. There will also be a deductible, which will be the amount you'll pay before your insurance kicks in.
Cost of Full Coverage Insurance
The cost of full coverage car insurance varies by the policyholder, the insurer and the insurer's definition of "full coverage." Overall, consumers paid ​$1004.58​ in ​2017​ for insurance, but that factors in all types of insurance, from liability-only to full coverage. That annual rate would put your monthly premiums at just over ​$83​.
Comprehensive coverage, which covers your vehicle against all non-collision accidents, including theft and natural disasters, is ​$134​ per year. At this rate, you'd see an additional ​$11​ on your car insurance policy.
Collision coverage, which takes care of your vehicle if you hit a vehicle, pole or pothole, is a little pricier, at ​$290​ per year. This would add ​$24​ per month to your car insurance policy.
Personal Injury Protection
Your vehicle isn't the only loss you can suffer as the result of a collision. If anyone involved in the accident, including you, is injured, there will likely be medical costs. As a result, you may have to make medical payments for years or be liable for paying someone else's medical bills.
For that reason, full coverage often includes adding on coverage for bodily injury. Here are the two types of medical coverage you can add to a full coverage policy:
Personal injury protection coverage: This insurance handles both bodily injury liability and bodily injury under collision insurance. It will cover injuries to you and anyone with permission to drive your vehicle, as well as passengers in your vehicle and passengers and drivers of vehicles if you're at fault.
Medical payments coverage: This type of motorist bodily injury coverage is more restrictive than personal injury protection. With medical payments coverage, there may be a time limit on the bills that will be covered, and it likely will only reimburse your deductibles and co-pays. Personal injury protection will often compensate you for wages lost and other ancillary expenses.
Other Full Coverage Policy Items
If you're going for full coverage, you'll need to look well beyond liability, collision and comprehensive insurance. Medical coverage is a must, but there are some items you may decide you don't need. Insurers may sell these as part of a full coverage package, though.
Those optional coverages include:
Zero-deductible insurance: If you do have a claim, you'll typically be responsible for paying a deductible before your insurance kicks in. There are insurance policies that completely eliminate the need to pay that deductible. Keep in mind, though, that your insurance premiums will be much higher with this option, so you may be better off setting your premium savings aside in case you ever need it.
Roadside assistance: Some insurance policies offer roadside assistance, which sends someone to you if you become stranded. Roadside assistance can jumpstart a battery, change a tire or have your vehicle towed if it needs to be repaired. You may be able to find this type of service for cheaper than what you'd pay in extra premiums.
Uninsured motorist coverage: If you're hit by a driver without insurance, this type of coverage pays for any damage or injury. You'll need a collision policy to go with this extra feature, though.
Rental reimbursement: After an accident, your vehicle could be out of commission for days. This option reimburses you for the use of a rental car while your vehicle is being repaired or replaced.
Gap insurance: If you purchase a new car and total it within minutes of driving it off the lot, you'll see a loss. Why? Because a new car drops in value after purchase. Gap insurance kicks in to reimburse you for the "gap" between what your vehicle is worth and what you still owe on it.
Cost to Repair a Vehicle
As you're making decisions about car insurance, you may be weighing the cost of premiums against the out-of-pocket price you'll pay for a higher deductible or minimum coverage. The cost to repair a vehicle can be anywhere from $50 to tens of thousands of dollars, depending on the severity. Even a mild dent in a bumper can cost hundreds of dollars, depending on whether the bumper needs to be completely replaced.
If the cost exceeds the current market value of your car, your insurer will total it, which means you'll get a check for that value. Keep in mind, this will usually be the value of your car at the time of the accident, not the replacement value. Your deductible will be subtracted from the insurance company's payment.
Umbrella Insurance Policies
The problem with liability insurance is that it will have limits. If you're deemed at fault in a serious accident, the other motorist could sue you for the amount that your insurance won't cover, going after your personal assets.
An umbrella policy is designed to rest atop your liability insurance, giving you a higher ceiling on the amount it will pay. Whether or not the extra cost is worth it depends on your assets. But it could give you peace of mind while you're driving around out there.
What Car Insurance Doesn't Cover
If you've chosen collision coverage, comprehensive coverage and liability coverage, as well as the extras, there are still some things that your auto insurance will not cover. If they apply to you, check with your insurer to see how your coverage can be extended to include them.
Professional use of car: If you drive your car for work, even as a gig worker, your auto insurance won't cover you in an accident.
Repairs not due to accidents: It probably goes without saying, but your repairs and maintenance won't be covered unless the damage was caused by a covered accident.
Uninsured drivers of your car: Typically, the insurance follows the car, not the driver, so an accident caused by someone driving your car should be covered. But if you allow an uninsured driver to get behind the wheel of your vehicle, you could be held liable. Check the fine print on your insurance policy to see who is and isn't covered.
Each insurance company has its own definition of "full coverage car insurance." But if you know the various elements that are available to you, you can typically line up a policy that will cover everything you need. It's important to weigh these extras against the money you'll be paying each month in premiums. You may find saving or investing some of that money is a more cost-effective approach.