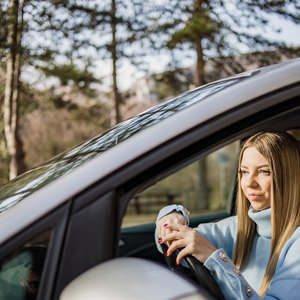 •••
Milan Markovic/iStock/GettyImages
If your teen plans to start driving soon, you'll have to carefully research options for car insurance before they get on the road. Like for any driver, having car insurance is usually mandatory regardless of state and provides financial protection in case your teen gets involved in an accident. Getting a car insurance policy for teens will require considering how to afford this costly coverage, whether to go with a separate or add-on policy, which discounts apply and which level of coverage fits best. Use this guide to learn about how car insurance for young drivers works and how to select and sign up for coverage.
Overview of Car Insurance Policies
According to the Insurance Information Institute (III), a car insurance policy has property, medical and liability components that can help policyholders avoid severe financial damage if they get into an accident and harm people, vehicles and other property. Rather than having to pay out of pocket for hitting another car, a policyholder would only need to worry about their deductible while the insurance company takes care of the remainder. However, the deductible may be waived in certain circumstances such as with liability coverage.
While car insurance is a requirement no matter where you live, you'll find that certain coverage types are mandatory while others are optional depending on the area and car lender requirements. Any policy will need to include liability coverage for bodily injuries and property damage, while coverage for uninsured motorists and medical payments are also common requirements. Note that liability coverage alone only pays other people for damage the covered driver causes them and won't lead to reimbursement for the policyholder's damaged car or medical issues.
On the other hand, you can consider full coverage plans with comprehensive and collision components. This type of coverage costs the most since it provides reimbursement for the policyholder's vehicle damage and applies to a wide variety of incidents. For example, comprehensive coverage would help if a tree falls on your teen's car, while collision coverage would help you get the covered vehicle fixed even if your teen hits a tree rather than another vehicle.
Car Insurance Implications for Teens
Insurance companies consider a teen driver to be anybody ​up to age 19​ who's of legal driving age. This can include anybody from 14-year-old drivers with a learner's permit to 19-year-old drivers with full licenses. However, Allstate explains that drivers during the learning stage might not always need to have insurance policies yet since the parents' policy may provide coverage as long as they're driving a car already on the policy. In most cases, though, your teen will need to be added to coverage on your plan or find their own policy.
While mandatory for all, car insurance is especially important for teens who could get into an accident more easily due to their lack of experience. The III mentions that teen drivers especially need to have a high level of liability coverage to avoid problems like the parents getting sued for damages. You might decide your teen doesn't need full coverage if they're driving a car of low value since the insurance rates can get very high. However, that level of coverage is definitely something to consider – and it may even be required – if your teen drives a new car or a vehicle with a loan on it.
Insurance Pricing for Young Drivers
When an auto insurance company calculates insurance premiums for any driver, they make their assessment based on the potential financial risk the driver presents. For example, the III explains insurance companies will check whether a driver has prior accidents or violations on their record, how often and where they use the car, which car they are insuring and how old and which gender they are. Beyond these risk factors, auto insurance companies will look at the credit score of the applicant as well as the insurance coverage options they've chosen.
Teenagers lack a driving record that shows safe driving behaviors, and they have a higher likelihood of getting into a car accident or engaging in reckless driving. These characteristics typically mean that teenage drivers pay much higher insurance costs than experienced drivers over the age of 25. On top of paying higher costs for these risks, teens with other characteristics like being male, driving an expensive sports car or having the car parked in an urban location can increase the premiums further.
To understand insurance rates, consider that a 16-year-old driver who chooses an auto insurance policy with collision and comprehensive coverage could pay several thousands of dollars a year. Even basic liability coverage can run a few thousand dollars for a teenage driver. Affordability will depend on how the coverage is arranged – a separate policy for the teen or an add-on to the parents' policy – and any discounts offered.
Considering Add-on Versus Separate Policies
Depending on your teen's age, you may have a decision to make regarding whether to go with a separate policy or have your existing car insurance company add your teen as a driver. You'll need to consider both costs and risks with both options.
When looking at costs alone, the III mentions the add-on option is usually more affordable despite still experiencing a higher premium increase than you would by adding an older and more experienced driver with a clean driving record. However, you do need to consider the risk that your teen could get involved in an accident or receive tickets that end up raising your rates. If you do add your teen to the policy, you get to assign a car to them, and there's usually not flexibility regarding which car they drive in your household.
Having your teen get their own policy requires first considering state laws – especially if your teenager is under 18 – since they may not be of legal age to sign the insurance contract. This could mean you need to add your signature for them to get the policy. You can expect to see the highest price tag with this option both due to the increased premiums to start out with plus the inability to get certain discounts you might have available on your current insurance policy.
Exploring Teenage Driver Insurance Discounts
Whether your teen gets added to your policy or obtains a separate one, insurance companies offer various discounts that reward teens who drive safely and get good grades. You can find other discounts that don't specifically relate to a driver's age but offer easy ways to save some money. Take a look at some categories of discounts a teenage driver might get:
​Grade-based discounts​: If your teenager studies full time in high school or college and maintains at least a B average, they can save some money on their premiums through several car insurance companies. Getting this discount usually involves sending report cards or grade reports to the insurer.

​Good driver discount​: As your teen demonstrates that they drive safely, your insurance company usually lowers rates, but it can take some time to see larger discounts. Your insurance company might base the discount on several years of driving history or allow you to sign up for a monitoring program that collects data based on your teen's driving.

​Location-based discounts​: Teenagers who have gone off to college and left their vehicles at home might get a discount. This will depend on how far away they're living. For example, Progressive requires a student to have moved ​100 or more miles​, and the discount is available to students ​up to age 22​.
​Driver's education discounts​: Since many teenage drivers will complete a driver's education or defensive driving course to prepare them to meet state licensing requirements, insurance companies often provide a small discount for this formal training.
​Payment method discounts​: Car insurance companies may provide a small discount for either paying the whole premium amount at once or automating monthly payments. Paying early when your teen gets the insurance renewal notice might also help.

​Policy management discounts​: If your teen opts to use the internet for tasks like getting quotes, signing documents and viewing statements, they might get discounts due to the money the insurer can save doing business electronically.

​Continuous coverage discounts​: If your teen stays insured by the same company, they can get loyalty discounts that rise the longer they stay covered.

​Car-based discounts​: If your teen will drive a brand new vehicle or a used one with certain safety features, they can see lower premiums. For example, GEICO gives discounts on coverage on vehicles featuring daytime running lights, security systems, airbags and anti-lock brakes and those that are a new model. Keep in mind, though, that going with a new vehicle can lead to higher premiums where the related discount might not help much.

Getting Quotes for Teen Drivers
Once you have decided which level of coverage your teen needs and whether or not they'll get their own policy, you can start requesting quotes to learn about insurance rates.
If you're adding your teen to your policy, you can simply call your insurance company and provide information about your teen and the car they plan to drive. Your insurance company should provide guidance on when your teen will need to be added to the policy – they might not if they're still learning – and provide an estimate of how the addition would increase your premiums. Your insurance company's website might have an option to add a driver online and see the rate change, but you might still find it helpful to call and make sure you receive as many discounts as possible.
On the other hand, if your teen is getting their own policy, you can either contact individual insurance companies online or by phone or use a comparison tool like The Zebra to see multiple insurers and plans at once for easier decision-making. You and your teen can experiment with looking into how different deductibles and coverage levels affect rates to find something affordable. Before simply choosing the cheapest insurer available, keep in mind the insurance company's reputation and customer service quality to avoid surprises if a claim arises.
Adding Teen to Existing Policy
After getting a quote for your teen and deciding on a level of coverage and start date, your insurance company will have you provide or confirm certain information about your teen. For example, you'll need to give their Social Security number, name, driver's license number (if any), vehicle registration information and birthdate. The representative will confirm the new driver and tell you the next steps and costs required.
Depending on when you add your teen, you may need to pay an extra lump sum for the current coverage period or just wait and pay your larger bill when the policy renewal comes up. Your teen should also receive an insurance card by mail, but you can usually print it off online to avoid the wait. You'll also see the new driver and any associated discounts shown on your policy documents.
Taking Out a New Policy
Once your teen finds the right auto insurance company, they can easily complete the sign-up process online or by phone. Often, the insurance company that sent a quote has some of your teen's information saved and will send a link to finish signing up for car insurance and making an initial premium payment. If your teen visits an insurance office, they may fill out a paper or digital application with the help of the representative.
In any case, your teen will provide complete contact information along with details for their car, license status and driving habits. Both you and your teen may need to sign insurance documents if your teen is underage. Your teen will either need to pay in full or make an initial payment so that the insurance begins when scheduled. They can expect to receive a physical insurance card in the mail as well as have the option to print one off the insurance company's website.
References
Writer Bio
Ashley Donohoe has written about business and technology topics since 2010. Having a Master of Business Administration degree, bookkeeping certification and experience running a small business and doing tax returns, she is knowledgeable about the tax issues individuals and businesses face. Other places featuring her business writing include Zacks, JobHero, LoveToKnow, Bizfluent, Chron and Study.com.