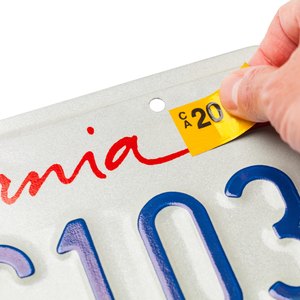 •••
Michael Burrell/iStock/GettyImages
Every state requires you to register your motor vehicle with their Department of Motor Vehicles (DMV). However, each state's vehicle registration process is different. They have different requirements for safety inspections and emissions control and a range of ways to calculate the registration fees.
Let's take a look at what you have to do to make sure your vehicle is properly registered.
What Is Vehicle Registration?
States use car registration to keep track of the vehicles driven by its residents. Drivers must pay a registration fee and provide personal information along with data about their vehicles.
Failure to renew could result in receiving a ticket, paying penalty fees and possibly having your car impounded if you're stopped by police and don't have a current, valid registration.
If your car is impounded, it would not be released until you pay all fines and registration fees. You would also have to pay towing and impound fees, which can amount to several hundred dollars by themselves.
When Do You Need to Register Your Car?
You need to register your new or used vehicle if you:
buy a new car through a dealer. The dealer will usually handle the title and registration documentation.
buy a car from a private seller. You'll have to take care of the registration yourself.
move to a different state. You have to register your car in your new state.
need to renew the registration on your current vehicle. In most states, you can take care of your registration renewal online.
How Does Vehicle Registration Work?
Your state DMV will give you a license plate the first time you register your car. Some states also issue decals which can be attached to your windshield or license plate, or they give you a registration card. States usually require you to renew your vehicle registration every one to two years and pay a renewal fee.
A vehicle registration usually contains the following information:
Your name and address;
Vehicle's title identification number;
Vehicle identification number (VIN);
License plate number;
Make and model year;
Expiration date for the registration.
Most states require you to keep your registration documents in your vehicle at all times. Most also require a sticker on your license plate or tag.
How to Register a Car
Registration in most states can be handled in person, online or by mail. If it's a first-time registration, you may have to go through the process in person at the local DMV. Most states require you to keep your registration documents in your vehicle at all times.
Each state has its own documentary requirements, and you may not need all of these, but here is a list of the documents you should have:
Driver's license to prove your identification and proof of residence;
Title to vehicle with VIN, make, model and color;
Proof of insurance to meet minimum state requirements;
Receipt for payment of sales tax or bill of sale;
Proof that the vehicle has passed a safety inspection;
Proof of passing an emissions test;
Odometer reading.
How to Renew Your Vehicle Registration Online or by Mail
It is likely your Bureaus of Motor Vehicles (BMV) offers an online services option for vehicle owners. You will probably need to pay any fees by credit card. The documents you need are:
Vehicle identification number;
License plate number;
Driver's license number;
Details of car insurance;
Current registration card.
Some states allow you to renew your car registration by mail. These states usually send out a renewal notice and application form ​60 to 90 days​ before the expiration date of your current registration. You pay the registration fees with either a check or money order, and you have the risk of the application or the registration decals being lost in the mail. However, renewal by mail is convenient when everything goes smoothly.
How Much Does Registering a Car Cost?
States collect registration fees to fund municipal services, maintenance on state highways and the state highway patrol.
Registration fees can be based on a flat rate for all vehicles, or a vehicle's value, weight, age, fuel efficiency or even the horsepower. Each state has its own method to determine registration fees, and the differences between states can be significant.
For example, California charges a registration fee of ​$46​ plus additional fees based on the type of vehicle, type of license plate and the owner's county of residence and driving record. In California, a poor driving record can not only cost you an increase in insurance premiums, it can also cost you more just to register your car.
Idaho charges a registration fee of ​$45 to $69​, plus additional fees depending on which county you live in. In addition, Idaho has become one of the few states to levy extra fees for electric vehicles. They charge an additional ​$140 per year​ for an electric vehicle or ​$75 per year​ for a plug-in hybrid.
Indiana is not so complicated. They charge a flat ​$21.35​ for all passenger motor vehicles.
What Is a Vehicle Title?
While a vehicle title and a car registration are both issued by state agencies, they are different documents.
A vehicle title is a legal document that identifies either a person or a lienholder as the legal owner. If you're purchasing a new car, the dealer usually handles the title application for you. However, when you purchase a used vehicle from a private party, the vehicle title must be endorsed by the seller and the owner changed with the Department of Motor Vehicles.
A vehicle registration is a document that shows you have registered your vehicle with your state's tax system. Most states require you to pay a tax, provide proof of car insurance, and show that your vehicle is roadworthy and has passed an emissions test.
Are Car Registration Fees Tax Deductible?
You may be able to deduct your annual car registration fees, but it depends on how your state charges the fees.
You can only deduct the portion of the registration fees that is based on the value of your vehicle and assessed annually. In addition, you must itemize your deductions on IRS form Schedule A to take the deduction on the line "state and local personal property taxes."
Here's an example. Suppose your state charges its registration fees at ​$3 per 100 pounds​ of vehicle weight and ​$2 per $1,000​ of value. Your vehicle weighs ​4,400 pounds​ and is valued at ​$22,000​.
Your registration fees would be ​$132 (4,400 lbs X $3/100)​ based on weight and ​$44 ($22,000 X $2 /1,000)​ based on value for a total of ​$176.​
Of this ​$176​ in total fees, you could only deduct the value portion of ​$44​.
If you own and drive a car, there are several things the state requires you to do. One is you must have a minimum amount of liability insurance, and the other is that you must register your vehicle with your state's department of motor vehicles. Failure to do either one of these can get you in big trouble with the police and cost you a lot in penalties and fines.
References
Writer Bio
James Woodruff has been a management consultant to more than 1,000 small businesses. As a senior management consultant and owner, he used his technical expertise to conduct an analysis of a company's operational, financial and business management issues. James has been writing business and finance related topics for work.chron, bizfluent.com, smallbusiness.chron.com and e-commerce websites since 2007. He graduated from Georgia Tech with a Bachelor of Mechanical Engineering and received an MBA from Columbia University.