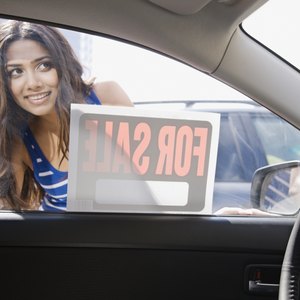 •••
JGI/Jamie Grill/Tetra images/GettyImages
If you're buying a used car or working with a car dealership to get top value on a trade-in for a new car, you may refer to the Kelley Blue Book.
The Kelley Blue Book (KBB) is a price guide that shows the valuation for all new and used vehicles. Used car dealer Les Kelley began compiling a list of used car prices in Los Angeles in ​1918​. Published for the first time in 1926, the pricing guide was only available for professionals in the automotive industry.
In 1993, Kelley first started offering the Consumer Edition of the Blue Book to give car buyers access to pricing information. Today, anyone can refer to the Kelley Blue Book or its companion website, KBB.com, to find pricing information for virtually any vehicle.
But how does KBB determine the value of vehicles, why is it the premier resource for car valuation and when would you use this pricing guide? We will guide you through everything you need to know about Blue Book Value and how it can help you buy or sell a car.
How Kelley Blue Book Determines Car Values
The publishers of KBB track the transactions of millions of used and new vehicle sales each year. These transactions come from:
Wholesale auctions
Independent used car dealerships
Franchised car dealerships that sell new and used vehicles
Rental fleet sales
Original Equipment Manufacturers
Financing companies that lease cars
Consumer car sales between private parties
The Kelley Blue Book representatives analyze this data and also look at historical trends, market conditions, industry developments and the economy.
Blue Book Values also depend upon the vehicle's condition and mileage (in the case of a used car), seasonality and the region where the vehicle is being sold.
One Car, Many Blue Book Values
Although automotive industry professionals and consumers may refer to a single "Blue Book Value" for a car, the Kelley Blue Book actually publishes multiple Blue Book Values for each vehicle. A car's valuation changes depending on how the vehicle is being sold.
Understanding the differences between these numbers can help you be sure you're paying the right price – or getting the right trade-in or cash value – for your vehicle.
If you are trading in your used vehicle for another new or used car, you should expect to receive this amount from a dealer. The amount varies based on the condition and mileage of your vehicle.
When you're negotiating pricing for a used car, Kelley Blue Book Suggested Retail Value stands as a starting point for the negotiation. Depending on the car's condition, you may expect to pay less than Suggested Retail Value. Cars from a dealership must meet basic safety standards before sale.
​Certified Pre-Owned (CPO) Value​
Beyond meeting minimum safety standards, many automotive manufacturers have certified pre-owned programs that promise their used cars sold by franchised dealers meet specific standards that exceed minimum safety requirements. A car's CPO value represents a starting point for negotiations. Depending on the overall condition of the car and how eager the dealer is for a sale, you may be able to negotiate a lower price.
This price represents how much you could expect to pay to buy a car from a private seller. When you're buying a car from a private seller, you may not be guaranteed that the car meets certain minimum safety standards. Private Party Value may be lower than the Suggested Retail Value you'd pay at a car dealership.
The Fair Purchase Price is the actual selling price of a vehicle based on historical data and sales trends. It is calculated from new vehicle sales and marketplace knowledge. When you're buying a new car, you should look at the Manufacturer's Suggested Retail Price, or MSRP, as the starting point for negotiations – not the amount you would expect to pay. You can use the Fair Purchase Price as a guideline in your negotiations.
Kelley Blue Book vs. Other Pricing Guides
Kelley Blue Book is considered the authoritative pricing guide for new and used car values. However, it's not the only resource of its kind. The National Automobile Dealers Association has published NADA pricing guides since 1933. NADA guides use the car's wholesale price as a starting point to determine the retail value.
KBB takes a more comprehensive approach, looking at the car's overall condition, mileage and regional factors. NADA assumes all cars are in equally great condition.
A third guide, Edmunds, also publishes new and used car valuations back to 1990. Edmunds calculates values based on dealer transactions, depreciation costs and consumer information. Like KBB, Edmunds takes into account the mileage, condition, trim package and features.
Whether you choose to review one or more pricing guides, it's important to use them only as a starting point in negotiations and try to get the best deal you can – whether you're seeking top dollar for a trade-in or a price that's substantially below retail price for your new or used car.
When to Use Kelley Blue Book
Whether you're trying to determine if you can afford the car of your dreams, negotiating to buy a new vehicle or selling a used car privately, KBB can be a valuable resource.
Refer to Blue Book Values when you're negotiating to buy a new or used car; you don't want to spend more than Blue Book Value based on the mileage and condition of the vehicle. Often, you can negotiate to pay several thousand dollars less than Blue Book Value.
Similarly, negotiate up from Blue Book Value for your trade-in.
When you're considering pricing to sell your vehicle privately, you can use Blue Book valuations to set asking prices. Set your asking price a few hundred more than the Private Party Value, within fair market range. This leaves the buyer room to negotiate. However, try not to jump above the nearest $1,000. For instance, if Blue Book lists a valuation of $7,600, don't price your car at $8,000. Instead, ask for $7,950.
In addition to the print publication, which is still a little blue book, you can access the information you need for buying, selling or trading in cars on the Kelley Blue Book website, kbb.com.
What Can You Do on the Kelley Blue Book Website?
The kbb.com website allows you to check car values easily, for free, once you provide some information about your vehicle. You can look up the trade-in value or the private party value, which is what you could expect to get if you sold your used car privately.
The site also provides helpful articles about buying a new or used car, car financing tips and a handy link to shop for auto insurance online.
You can also use kbb.com in your quest for a new car. It acts almost like a "Zillow" for car buyers, permitting you to search for a new car by:
You can also check for safety recalls, find the best car buys of the year and even request an instant cash offer for your used vehicle through the website.
Thanks to the methodology KBB uses to determine car values, you can be confident you're getting a fair price for your trade-in or getting a good deal on your new or used vehicle purchase.
References
Writer Bio
Dawn Allcot is a full-time freelance writer, content strategist, and founder of GeekTravelGuide.net, a travel, technology, and entertainment website. A seasoned finance writer, her work has appeared on Forbes, Bankrate, Lending Tree, Solvable, Moneycrashers, and many other personal finance sites, including the award-winning Chase News & Stories portal. With more than 20 years editorial experience, Dawn seeks to take complex concepts and simplify them for today's busy readers. Whether she is writing about taxes or technology, her goal is always to educate, inform, and entertain.