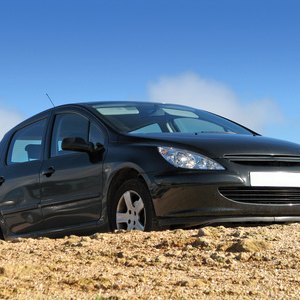 •••
car image by bright from <a href='http://www.fotolia.com'>Fotolia.com</a>
Leasing a vehicle requires a signed contract between you and the bank you are leasing from. The leasing institution approves your lease based on your personal credit information. Various paperwork and documents are required for leasing, although additional documents may differ by bank or personal credit situation.
Personal Information
A signed credit application is a requirement for leasing. A credit application lists all of your personal and applicable credit information and is completed during the application process. You provide your name, address, social security number and date of birth. Your employer's name, address and phone number, along with your job title and length of time at your job are also required. In addition to this information, you are required to state the time you've lived at your current address and the amount of your rent or mortgage payment. Employer and address information is needed for at least the past two years. You will also provide a copy of your driver's license.
Requested Paperwork
The leasing institution may require additional information from you before approving your lease. The bank may ask for a copy of your social security card or birth certificate if there is an identity error on your credit report. If you have lived at your address for a short amount of time, the bank may ask to see proof of residency, such as a utility bill in your name at your address. Proof of income, such as your most recent pay stub or other proof of income may also be required at the bank's discretion.
DMV Requirements
You must provide proof of insurance documents to your leasing institution. The bank you are leasing through requires full coverage on your vehicle at all times during the leasing term. Your leasing representative will let you know the insurance coverage and deductible requirements for your policy. The dealer will provide your insurance coverage information to the leasing institution for you, but you will have to make sure that your insurance company notifies your bank at every policy renewal period.
Contract
A contract is a necessary and required document for all leasing agreements. The contract lists fees, payments, interest rate, term and lease-end buy-out amount. The contract also details any fees due to contract termination and penalties for over-mileage or lack of insurance. All vehicle information, including mileage at the time of lease inception, is documented in the contract. You are required to sign all contract documents—both you and the bank receive copies of the contract.
Writer Bio
Shanan Miller covers automotive and insurance topics for various websites, blogs and dealerships. She has extensive automotive experience, including auction, insurance, finance, service and management positions. Miller has worked for dealer sales events around the United States and now stays local as a sales and leasing consultant for a dealership.