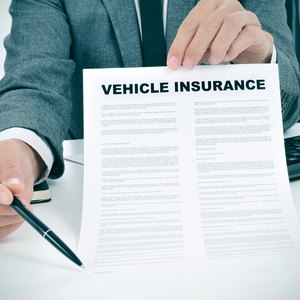 •••
nito100/iStock/GettyImages
Everyone who drives a car must have auto insurance coverage. In fact, most states require every motorist to have a minimum amount of liability coverage insurance, even if the drivers don't have the other types of vehicle insurance. Fortunately, auto insurance companies offer a variety of coverage options to fit everyone's situation and budget.
Car insurance coverage falls into five types of car insurance: liability, collision, comprehensive, uninsured motorist and medical payments. Let's look at each of these types of coverage and see what options are available.
Liability Insurance
Liability insurance covers the cost of medical expenses and property damage to other parties as a result of an accident when you are at fault. Liability insurance does not include medical payments coverage to cover the cost of medical treatments for yourself or damage to your vehicle.
Car insurance companies use a designation such as ​$50,000/$100,000/$15,000​ to define the maximum amount they will pay for the three basic types of liability coverage. The first number, ​$50,000​, is the limit on bodily injury payments for one person. The second number, ​$100,000​, is the maximum amount the insurer will pay for bodily injuries per accident to two or more people. The third number, ​$15,000​, is the limit per accident for property damage.
Minimum liability coverage varies by state. The minimum bodily injury coverage can range from ​$15,000 to $25,000​ per person and around ​$50,000​ in bodily injury coverage for more than two people. The coverage for property damage can range from ​$5,000 to $25,000​.
If you have substantial assets, you should probably carry more than the minimum liability insurance required by your state. If you are at fault in an accident and get sued for amounts higher than your minimum liability coverage, you could lose your savings or the equity in your home.
Collision Insurance
Collision coverage pays for damage to your car if you collide with another vehicle. States do not require you to carry collision insurance, but your lender will probably require it when you have a car loan or a lease.
Collision insurance coverage has deductibles, such as ​$100, $500 or $1,000​. The deductible is the amount that you must pay out of pocket before your insurance begins to cover your expenses. Let's say you have a deductible of ​$500​, and you're in an accident that costs ​$8,000​ to repair your car. You have to pay ​$500​ up front, and your insurance company pays the balance of ​$7,500.​
The trade-off is that insurance policies with higher deductibles have lower premium rates, but you have to pay more out of pocket before your insurance company steps in. If you have enough funds set aside in an emergency or savings account to cover the deductible, then you can choose collision insurance with higher deductibles.
Comprehensive Insurance
While collision insurance covers damages from a collision with another vehicle, comprehensive coverage pays for damage to your car as a result of other causes such as theft, vandalism, wind, falling objects, broken windshields, fire, floods, hail or hitting an animal.
States do not require you to have comprehensive insurance, but your lender will probably require it with your car loan. Otherwise, whether or not to carry comprehensive insurance is up to you.
Premiums for comprehensive insurance are relatively inexpensive compared to the cost for other coverage, such as collision insurance. Comprehensive insurance is worthwhile as long as the premiums are a small percentage of your car's value.
Uninsured Motorist (UM) Coverage
Although most states require drivers to have auto insurance, this doesn't mean that all drivers will purchase it. According to Forbes, Florida has the most uninsured motorists at ​26.7 percent​ with Maine coming in at the lowest with ​4.5 percent​.
In the event that you sustain injuries and damage to your car caused by an uninsured/underinsured driver, you could get stuck with huge medical bills and deductibles from your health insurance. In this case, your uninsured motorist coverage steps in to pay for your medical bills and car repairs.
UM coverage pays your medical bills, lost wages if you're unable to work as a result of the car accident, funeral expenses and may possibly award you compensation for pain and suffering.
UM coverage requirements and regulations vary widely by state. About half of the states require uninsured motorist coverage, and it is optional in the others. Hit-and-run accidents are covered in some states but excluded in others.
Personal Injury Protection (PIP)
Personal injury protection, also known as "no-fault insurance," covers your medical expenses from an accident regardless of who is at fault. PIP also covers other drivers, if they're listed on your policy, and other passengers in your car.
A dozen states require PIP as part of their laws for no-fault auto insurance. These states limit your ability to sue another party for injuries by requiring you to file claims against your own PIP insurance first. Each state has its own threshold amount before you can initiate a lawsuit.
The goal of PIP is for the injured party to receive prompt payment for medical expenses, regardless of who is at fault. This eliminates the lengthy time it could take for a lawsuit to be resolved and for the injured party to get paid.
Although PIP is optional in many states, you might still want to take this insurance because it provides some benefits that health insurance doesn't offer, such as payment for services like house cleaning and reimbursement for lost income.
Optional Insurance Coverage
In addition to your basic coverage, auto insurance companies offer other options you may want to add to your policy.
Guaranteed Asset Protection
Unless you've made a substantial down payment on your purchase, you may be underwater as soon as you drive the vehicle off the lot. If you have an accident and your car is totaled, there's a good chance that the insurance company would not reimburse you enough to pay off your loan, and you would be left owing the difference to the lender. Guaranteed Asset Protection (GAP) or gap insurance steps in to pay this difference on your loan.
Roadside Assistance
If you don't already have roadside assistance coverage, such as AAA, this is a convenient option to add. Roadside assistance comes in handy if you have a dead battery, flat tire or you need to tow your car to your mechanic. The premium cost for this option is only a few dollars per month.
Umbrella Insurance
Medical expenses from injuries and property damage from an accident can often add up to thousands of dollars, and if you don't have enough coverage, you could wind up on the losing end of a lawsuit that could deplete your assets. An umbrella policy adds liability coverage above your existing insurance. These policies usually start at ​$1,000,000​ and are intended to protect drivers with substantial assets.
Rental Car Reimbursement
If your car is going to be in the repair shop for several days as the result of an accident, you'll need a rental car to get around. A rental reimbursement option covers this cost.
References
Writer Bio
James Woodruff has been a management consultant to more than 1,000 small businesses. As a senior management consultant and owner, he used his technical expertise to conduct an analysis of a company's operational, financial and business management issues. James has been writing business and finance related topics for work.chron, bizfluent.com, smallbusiness.chron.com and e-commerce websites since 2007. He graduated from Georgia Tech with a Bachelor of Mechanical Engineering and received an MBA from Columbia University.