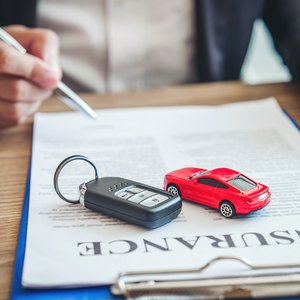 •••
SARINYAPINNGAM/iStock/GettyImages
Whether you're getting car insurance for the first time or dealing with rising rates at renewal, the good news is that most car insurance companies offer a variety of discounts that can help make your premiums more affordable. Some of these discounts come automatically for staying with a company or managing your payments a certain way. Others require you to be associated with a specific status, have a vehicle with certain features or use the insurer for other policies, too. To get the best results, take a look at your options for car insurance pricing and discounts and learn about other ways to lower your bill beyond policy discount options.
Overview of Car Insurance Pricing
If you've ever wondered how your auto insurance company sets your policy price, the Insurance Information Institute (III) explains that many factors regarding you, your policy features and your vehicle will play a role. Some of these are personal details such as where you live, how old you are, which gender you are and what your credit score looks like. Others include your typical mileage, driving history, type of vehicle and the specific level of coverage you've purchased.
For example, you can expect to pay higher rates for car insurance if you're under 25, male, drive a lot, have blemishes on your driving record, live in a high-crime or crowded area, own a pricey car or have a poor credit score. On the other hand, an experienced driver who doesn't cover much mileage each year and has a flawless driving record should have lower rates. In either case, though, you'd pay higher rates for a full coverage policy with roadside assistance and rental car coverage versus minimum coverage, regardless of the other factors.
Keep in mind that your car insurance premium usually changes each time you renew the policy or make changes to the coverage or any add-ons. The III mentions that increases don't necessarily result from having driving incidents or changing policy features. Instead, the company might raise your rates due to increased risks in your location, higher car repair costs and economic changes.
Exploring Car Insurance Discounts
When a car insurance company offers you a policy discount, you'll see it reflected on your premium bill – often as a percentage off. The car insurance discount might either apply as a percentage off of your entire premium amount or just off a specific portion of your car insurance policy. Some discounts might be specific to a certain level of coverage such as comprehensive versus liability, and they might only be available in specific states. So, your savings can vary.
The good news is that you can often stack car insurance discounts for the best deal. Usually, your insurance company lets you do this up to a total maximum discount for your policy. You can find out which discounts might apply to your existing policy by either taking a look at the latest statement for your premiums or by contacting the insurer directly and asking. In some cases, you might meet the eligibility requirements for discounts and not even know about it until you contact the insurer to add the discounts to your policy and possibly submit some documentation for certain discounts.
While the types of car insurance discounts available will vary by insurance company, common discounts fall into a handful of categories. These include discounts for driving responsibly, using a car with important safety and security features, giving the insurance company business with additional insurance policies and belonging to a specific group of people such as students, veterans or homeowners. Liberty Mutual describes some additional discounts related to how customers choose to renew their policies and handle their bills as well as how many cars they insure on a policy.
Customer Relationship Discounts
After you've signed up for a car insurance policy, you might receive an automatic discount on future policy renewals to thank you for staying loyal to the insurance company. This discount can grow as you reach certain milestones and might come with other perks that reduce your insurance costs.
For example, Progressive has a 20-year loyalty program that starts offering a loyalty discount and small accident forgiveness after six months of coverage. Customers eventually get access to a teen driver discount after one year, large accident forgiveness after five years, priority support after 10 years and a guarantee for renewal after 20 years.
Also, you can get some savings for customer loyalty by taking advantage of multi-policy and multi-car discounts. For example, Progressive says that bundling your car insurance with other insurance policies like homeowners or renters insurance can help you save ​five percent​ on average versus buying separately. GEICO offers a discount that can be as much as ​25 percent off​ if you put multiple cars on your auto insurance policy; this can particularly help with making insurance coverage for riskier drivers like teenagers more affordable for your family.
Good Driver Discount Programs
Since drivers who follow safe driving techniques reduce their chances of getting involved in an accident, car insurance companies like to offer rewards to encourage these drivers to keep up their good habits and even further develop their driving skills. Some safe driving discounts apply to the medical payments and personal injury part of your insurance policy while others might apply to the policy as a whole. Some safe driver discounts are also restricted to drivers in a certain age group.
For example, Nationwide offers insurance discounts to drivers aged ​55 and older​ who want to improve their skills through a defensive driving course, to those who sign up for a program that monitors their driving habits and to those who stay accident-free and avoid traffic violations over a five-year period. To get the discount for letting them monitor your driving, you plug a special device into your car that sends data to Nationwide.
If your car has a system like OnStar installed, this can also monitor your driving habits so that both you and the insurer can analyze your performance and possibly qualify for a discount. Some other insurance companies sometimes offer a safe driver discount to new drivers who take a professional driver's education course.
Vehicle Feature Discounts
You can also get discounts on your auto insurance based on either your vehicle's condition or special features it might include. Even though used cars cost less due to having less value and can thus have lower insurance premiums, some insurance companies will give discounts to people who have new vehicles with no past owner. You'll also find discount programs for vehicles equipped with certain safety features as well as security systems.
Allstate, for example, will give you a discount if you own a new car that is last year's model at the latest. They'll also give you policy discounts if your car has anti-lock brakes or an anti-theft device like a car alarm system vehicle immobilizer. Liberty Mutual extends savings to vehicles that have adaptive headlights and electronic stability control as well as those to electric and hybrid models. GEICO, on the other hand, gives up to a ​23 percent​ discount for cars with airbags and ​three percent​ for those with daytime running lights.
OnStar, which offers vehicle safety and security services, mentions your insurer might give you a discount for being a member and having the OnStar hardware installed in your car.
Discounts Based on Status
Whether you're a student who's just started driving or a professional in certain occupations, you can find discount programs that look for a certain age, status or affiliation.
For example, insurance companies often offer a good student discount to high school and college students who get good grades. For example, GEICO gives a good student discount to young drivers for studying full-time with good grades, and infrequent drivers who are students can also save. You can also find discount programs for people in the military or currently deployed as well as federal employees. Such programs can lead to higher savings if the person is an active service member working in an emergency area versus lower savings for veterans and National Guard members.
GEICO offers additional discounts to professionals who are part of a specific organization that has partnered with the insurance company. This can include people who have graduated from a specific university, joined a professional organization in their industry or became members of an affiliated sorority or fraternity. Farmers Insurance has a program called Affinity that offers discounts for similar affiliations as well as to current and retired workers of qualified businesses.
Policy Management Discounts
Your car insurance company might offer an easy way to get multiple discounts simply by changing how you manage your account and billing. For example, you can sometimes get a discount if you sign up for paperless billing since your insurance company will save on printing and mailing costs. Also, some insurers will give you a policy discount for getting your quote online rather than calling or visiting a representative or for signing your policy renewal agreement early.
When it comes time to pay your insurance premiums, you might get a better deal if you pay the entire amount at once rather than make monthly payments. But if you do opt for monthly payments, having your insurance company withdraw the money automatically from your bank account or charge it to your credit card might get you a small discount. For example, Allstate offers a discount for setting up automatic withdrawals and paying in full.
Getting Car Insurance Discounts
If you've already paid for coverage and believe you qualify for any of these car insurance discounts, try checking your insurance company's website to see if they have a list of what they offer. You can then reach out to the company online or by phone to ask to have relevant discounts added to your policy and verify any discounts already received. During the process, you might need to submit proof if the discount requires a certain affiliation or driver's training course, or you might need to request a monitoring device if you get a discount based on driving habits.
When signing up for a new auto insurance policy, you'll often know upfront about some discounts that could apply to you and opt in to certain ones at the time of signup. For example, you might see a notice that you save money by paying your whole premium amount in full when you sign your insurance forms online, or your insurance agent might ask you some questions to find out if you qualify for an affiliation-related discount. You can later reach out to the insurance company to learn more and apply other discounts to save more money.
Consider Other Ways to Save
Along with checking into whether these various car insurance discounts are available based on your location, status and insurance provider, you have some other ways to make sure you get the best deal and have premiums you can afford.
​Consider a higher deductible​: The lower your deductible is, the higher your premiums will be. Therefore, you can decide if you're financially willing and able to pay a higher deductible in exchange for policy savings. If you do this, the III cautions that you should have enough cash saved to comfortably cover your deductible.
​Research insurance companies thoroughly​: Whether you're currently insured or not, it can pay to compare different insurance companies and consider all the discounts available. The internet makes it easy to get car insurance quotes from multiple companies, read reviews of insurers and even do side-by-side comparisons. You might find that another provider can offer the same coverage for less than your current insurer – even when you consider all the discounts you get already.
​Pick your next vehicle carefully​: Along with researching vehicle prices for a new purchase, you should also think about how much you'll end up paying for insurance. Since factors like the vehicle's age, value and safety features all factor into insurance pricing, try getting quotes and exploring multiple vehicle options to find one that fits your budget. You might also research vehicles with certain technology features that can help you drive safely and save on your insurance.

References
Writer Bio
Ashley Donohoe has written about business and technology topics since 2010. Having a Master of Business Administration degree, bookkeeping certification and experience running a small business and doing tax returns, she is knowledgeable about the tax issues individuals and businesses face. Other places featuring her business writing include Zacks, JobHero, LoveToKnow, Bizfluent, Chron and Study.com.