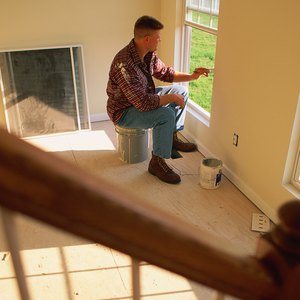 •••
Stockbyte/Stockbyte/Getty Images
Whether you live in a traditional detached house or a condominium unit, increasing the value of your home is paramount in planning for a future resale or for refinancing a mortgage. Since physical limits and homeowners association bylaws restrict the sort of improvements that can be made to a condo -- no room additions or in-ground swimming pools, for instance -- condo values must be improved from the inside.
General Maintenance
As a dwelling ages, some wear-and-tear occurs that might hardly be noticed by the residents but is glaringly obvious to a prospective buyer: chipped paint, finger smudges on walls and wall switches, worn carpets, chipped paint on kitchen appliances and bathroom fixtures, and cracked bathroom tile. To maintain the value of your condo, keep up with day-to-day cleaning and maintenance and keep records and receipts for all repairs and replacements.
Economical Improvements
Not every improvement is expensive. A thorough, professional carpet cleaning can often restore dingy carpeting and cut down odors from cigarettes and pets. Patch stained or cracked walls and brighten them with a fresh coat of paint in a neutral color. Remove or paint over dated or overly busy wallpaper. Cleaning or replacing bathroom grout, replacing broken tiles and touching up chipped porcelain fixtures can spruce up bathrooms, as can new shower curtains and toilet seats. Paint kitchen cabinets and add new door and drawer pulls. Clean out closets to show off storage space.
More Elaborate Upgrades
If you are planning an extensive condo renovation, check with your homeowners association about what is, and is not, permitted. Depending on the configuration of the development, major structural changes are generally not allowed. If the condo unit's kitchen is outdated, a new stove or refrigerator is a worthwhile investment, along with installing new cabinet doors and drawer fronts or resurfacing existing cabinets. New counters made of granite, marble or stainless steel or less-expensive ceramic tile, butcher block or laminate give the kitchen a modern look. Consider replacing worn or outdated carpeting with new carpets or hardwood floors, although some condo rules require carpeting. Bathrooms also can benefit from new sinks, toilets, updated lighting fixtures and faucets.
Realistic Remodeling
The OwnACondo website warns, "Keep in mind that not all improvements will greatly increase the resale value of your condo, since some upgrades add luxury without increasing worth." According to the Remodeling Cost vs. Value 2013 Report, a midrange bathroom remodel project cost $15,782 and recovered $10,295, or 65.2 percent, in resale value. The project updated a small bathroom, replacing the tub and surround, toilet, vanity and sink, tile floor and wallpaper. A minor kitchen remodel that replaced cabinet fronts and countertops, installed a new sink and faucet and a new cooktop and wall oven, and added a new wall covering and flooring, cost $18,527 and recovered $13,977, or 75.4 percent.
Exterior Maintenance
The appearance of the condo development itself is important to the resale value of individual units. Clean, attractively landscaped grounds, well-lighted hallways, a well-kept swimming pool and tennis court, security gates and other amenities are all considered by prospective homebuyers, so be sure that your homeowners association board and management company are maintaining the development's value.
References
Writer Bio
As a long-time newspaper reporter and staff writer, Kay Bosworth covered real estate development and business for publications in northern New Jersey. Her extensive career included serving as editor of a business education magazine for the McGraw-Hill Book Company. The Kentucky native earned a BA from Transylvania University in Lexington.