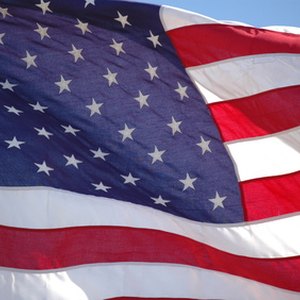 The U.S. Department of Veterans Affairs, previously called the Veterans Administration, provides several benefits for spouses of disabled or deceased veterans. Eligibility requirements vary depending on the program, and most benefits require the spouse to fill out a form to determine whether she is eligible for the benefit -- that is, the VA does not give the benefits automatically.
Dependency Indemnity Compensation and Death Pension
Dependency Indemnity Compensation, or DIC, is a monetary benefit paid monthly to survivors of a military member who died while on duty, either from a service-related illness or injury or while receiving VA compensation for a totally disabling service-related disability. Spouses may not receive DIC if they remarry -- unless they remarried after December 16, 2003, and were age 57 or older at the time of the marriage. The basic monthly rate for DIC as of February 2011 was $1,154 per month for the spouse of a veteran. The benefit amount is more if the spouse has dependent children or if the spouse is housebound, meaning she has a disability that requires aid or assistance at home.
The VA death pension is a benefit paid to spouses of service members who served at least 90 days of active military service with at least one of those days during a wartime period. To qualify for the death pension, the spouse must report her annual income from other sources, minus medical expenses. The VA calculates the difference between the Maximum Annual Pension Rate and the spouse's annual countable income and pays the difference over 12 equal monthly installments.
Educational and Home Loan Assistance
To qualify for educational assistance, a spouse must be a widow or widower of a deceased veteran or be married to a veteran who is permanently and totally disabled. The program allows up to 45 months of financial assistance for educational expenses. A spouse must apply for and use the benefits within 10 years of becoming eligible for the benefits, unless the VA rated the veteran permanently and totally disabled with an effective date of three years from military discharge. In this case, the spouse is eligible for educational benefits for 20 years. Unremarried widows and widowers of veterans who died in active duty or from a service-related disease or injury are also eligible for home- loan assistance through the VA Home Loan program.
Medical and Counseling Benefits
The VA provides the Civilian Health and Medical Program to help cover the cost of medical care to spouses of permanently and totally disabled veterans. Also eligible are the surviving spouses of veterans who died in active duty, died while classified as permanently and totally disabled or died from a service-related condition. This health coverage is intended to help spouses who are not eligible for TRICARE, a health-care program for active duty and retired military members, their spouses and, in some cases, former spouses.
The VA also provides free counseling to spouses and children of deceased and disabled veterans. Spouses of veterans who had Servicemembers' Group Life Insurance or Veterans' Group Life Insurance are eligible for free financial counseling through the Beneficiary Financial Counseling Services.
Burial Benefits
The VA provides burial benefits to surviving spouses of deceased service members. If the spouse of a veteran who died in service, while disabled or while receiving any benefits from the VA pays for the veteran's funeral and burial expenses, the VA will pay up to $2,000 toward the burial expenses if the death was service-related and up to $300 if the death was not service-related, as of February 2011.
References
Writer Bio
Amanda Knaebel is a self-professed gadget geek and loves all things tech, both new and old. Amanda has been working as a freelance writer for over 10 years on topics including technology, health, fitness, nutrition, gardening and many more. She has also worked with Fortune 50 tech and financial companies, both in technical support and content production.