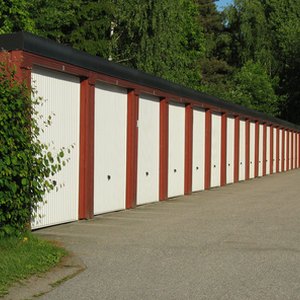 If you're considering an investment in real estate, you may only be thinking of rental homes, rental office spaces or other types of commercial real estate. But if you're not very excited about the thought of dealing with tenants, as well as keeping up with the maintenance that typically goes hand-in-hand with most rental units, there's another investment opportunity that may pique your interest. Self-storage facilities, according to Forbes, are not only solid investments; they're often more lucrative than other types of real estate.
Self-Storage and the Economy
Forbes also notes that self-storage has a history as a recession-proof investment. In a good economy, some people tend to overspend, and household items that overflow their home's capacity often end up in storage facilities. On the flip side, in a poor economy, some people have to downsize to a smaller home. Instead of selling or donating household items that do not fit into a smaller space, many people look to self-storage as a temporary holding area for their belongings.
Types of Self-Storage Facilities
Choosing the type of self-storage you want as an investment will help you determine a more specific value. Broadly, self-storage can be subdivided into units that you access directly from the outside and those that you access from an inside common area. Outdoor units are essentially garages, and indoor units typically are climate-controlled rooms within the interior of the facility. You can have a no-frills utilitarian storage facility, or you can offer some bells and whistles such as electronic access, biometric scanners, eco-friendly units constructed from sustainable building materials and fully landscaped grounds to increase the aesthetic appeal.
Upselling Self-Storage for Added Value
Your self-storage investment has greater potential value for increased profitability if you offer products to sell in addition to the storage fees you charge. For example, moving boxes, packing materials and truck rentals offer customers a one-stop shopping benefit as an incentive to rent a unit from you. An additional income stream comes from offering storage of vehicles such as boats and RVs. Some self-storage owners even offer tenant insurance to their customers.
Self-Storage Market Research
As you begin the process of valuing your self-storage investment opportunity, add these items to your market research list:
Identify your target demographic. Typically, potential customers who are looking for self-storage choose units that are within a few-miles radius of where they live.
Check out the competition. Find out how many and what type of self-storage facilities are near your potential location. But don't stop at merely driving by these self-storage businesses. Look at their websites, newspaper advertisements, brochures and social media sites to help give you an estimate of what your profits may be. Hone in on how they market themselves; for example, if they place an emphasis on their security system, they may be doing that to address their customers' concerns.
Compare pricing. You may get your best idea of how to value your self-storage business by comparing your competitors' list of prices.
Assess the size and functionality of your proposed self-storage facility. If the property is small and you need an on-site manager to run the operation, the manager's salary will significantly add to your operating costs. But if there are enough additional factors that shed a positive light on your facility, you may be able to use an automated kiosk instead of an on-site manager to reduce your operating costs. Note whether there is room for expansion, particularly if your facility is small.
Self-Storage Value Calculator
After you've done your market research, make a spreadsheet of your anticipated costs that also includes a storage unit income calculator to project your revenue. Include your startup costs in your self-storage value calculator as well as your monthly operating costs, including utilities, maintenance and even advertising. If you're buying an existing facility, the current owner may be willing to share vital information with you, such as how much revenue she brings in each month, compared to her operating costs. If you're building a new facility, you'll also need to factor in construction costs.
References
Tips
Other factors such as necessary repairs may affect how much you can reasonably offer.
Warnings
Beware of a seller who tries to sell on potential numbers. The deal would look really good if he showed you the numbers with every unit rented, but you have to buy on reality. If you can fill the empty units, you raise the value of the property, but until they're filled, they don't add value.
Writer Bio
Victoria Lee Blackstone was formerly with Freddie Mac's mortgage acquisition department, where she funded multi-million-dollar loan pools for primary lending institutions, worked on a mortgage fraud task force and wrote the convertible ARM section of the company's policies and procedures manual. Currently, Blackstone is a professional writer with expertise in the fields of mortgage, finance, budgeting and tax. She is the author of more than 2,000 published works for newspapers, magazines, online publications and individual clients.