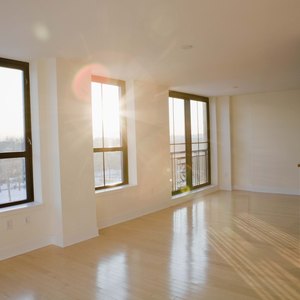 •••
Jupiterimages/Creatas/Getty Images
According to a National Association of Realtors survey, 74 percent of homebuyers begin their search online, making an online presence an important element in a home's sales message. If the home is vacant, photographs don't give a viewer a concept of room size; shoppers can't visualize themselves living in the house; and flaws are more readily exposed. In a tight market, home staging sets a house apart from its vacant competitors.
Bare Bones
Empty floors, walls, ceilings and windows convey a vacant emotion. They say that the home is without personality. People have difficulty visualizing themselves living in the empty space. Staging, even with a few pieces of strategically placed furniture and some potted plants, brings life to a home, enhancing its salability.
Room Size
Most people can't approximate the size of a room without furniture since vacant rooms look smaller than they actually are. Bedrooms are especially prone to criticism if they're without furniture. If the room is small, bring in a full- or queen-sized bed to create the appearance of size. A large room needs a king-size bed to occupy its space without looking overwhelming.
Vignettes
If renting a house full of furniture is out of your budget, consider vignettes in the main rooms. Instead of marring the walls by hanging artwork, place a large mirror on the floor and lean it against a main wall. Put a comfortable chair with an open book on the seat, and a floor lamp in a cozy corner. Add a large silk plant and the room springs to life, giving buyers a sense that someone lives there.
Entry Hall
Walking into an empty entry hall rings hollow. An inexpensive, rubber-backed entry rug immediately adds warmth. An umbrella stand or hat rack says this is an active part of the home. You're creating an illusion, but one that puts buyers in the frame of mind that sells a house.
Kitchen
A large, colorful cast-iron Dutch oven on the stove, bright, new dish towels and a vase of fresh or silk flowers nearby are all you need to stage a kitchen and make it feel like the heart of the home. A bowl of wax fruit and table settings on the counter or a nearby kitchen table add to the ambiance.
Bathrooms
A set of new towels on the countertop or hanging on the towel racks adds color to a bathroom. A bowl of potpourri or dish of scented soaps give off a fresh fragrance, and keeping toilet paper on the rolls avoids plumbing problems.
Cost
Professional stagers have access to warehouses full of furniture and can stage your home with vignettes or full-room decor. Prices vary for a basic consultation, telling you how to stage the home yourself. Virtual stagers use your photographs of empty rooms and digitally enhance each room with furnishings.
References
Writer Bio
Jann Seal is published in magazines throughout the country and is noted for her design and decor articles and celebrity *in-home* interviews. An English degree from the University of Maryland and extensive travels and relocations to other countries have added to her decorating insight.