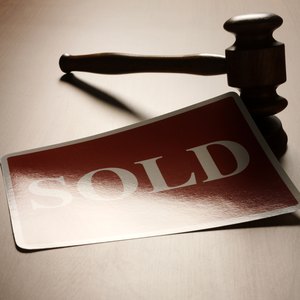 •••
mark wragg/iStock/Getty Images
Banks' safe deposit boxes are used for storage of valuable items. If the box renter stops paying the rent — essentially abandoning the box and its content — banks do not sell their contents, but are required to turn them over to the state where the box was located. The states in turn may auction the items and credit the proceeds to the individual owners for future claims. Among the states that use auctions to sell unclaimed property are Florida, Texas, California, Colorado, Kansas, Wisconsin, Oregon and Washington.
Determine the items to buy from an unclaimed property auction. The auctions consist of items held in banks safe deposit boxes by depositors. Generally, these are valuable items such as fine jewelry, watches, loose diamonds, gold and silver coins, bars and bullion, collectibles, sport cards and antique paper currencies. Documents such as insurance policies, property deeds and wills are not included in such auctions.
Read your local newspapers to find unclaimed property auctions. States usually hold these auctions every two to four years, depending on the volume of the unclaimed property to be auctioned. Dates and locations of the auctions along with the items to be sold are advertised in newspapers.
Visit the state unclaimed property department of your state online. Many times this department is part of the comptroller's office, treasury department or financial services department. The department's website has information on dates for online and in-person auctions. Some states offer email alert service to let subscribers know of upcoming auctions.
Find unclaimed property auctions on eBay. Some states, including Texas, California, Kansas, Colorado, Maryland and Wisconsin, place their unclaimed property received from banks' safe deposits on eBay auctions. The states will generally set up their own eBay accounts for these auctions, with pictures and item descriptions. Be sure you deal with the state that is holding the unclaimed property auction and not with a third-party seller, unless the seller is authorized by the state.