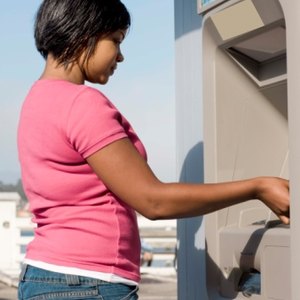 •••
Jupiterimages/Creatas/Getty Images
If you have an account with Huntington Bank, using your debit card can provide real convenience. The Huntington Bank debit card allows account holders to make purchases anywhere Visa is accepted, and get cash at any number of ATMs. While most of those debit card transactions will go smoothly, it is important to know what to do when something goes wrong. Identifying problems early and working with the bank to resolve them is the best approach.
Keep a list of all debit card transactions, including ATM withdrawals and purchases. You might want to keep a small envelope in your pocket or purse and place all your receipts inside. Having the actual receipts in front of you makes it easier to update your check register at the end of the day and maintain an accurate balance.
Review your debit card transactions online by signing on to your account. Note the transaction dates and amounts of any unfamiliar transactions.
Call the customer service phone number on the back of your Huntington Bank debit card and ask to speak to an account representative. Explain the problem to the account representative, giving as much detail as you can.
Provide a written statement to the bank if asked to do so. If your debit card was used fraudulently, you might be asked to sign an affidavit stating that you did not authorize the purchase or withdrawal.
Contact Huntington Bank immediately if your debit card is lost or stolen. As long as you notify the bank promptly, you cannot be held responsible for any fraudulent transactions, withdrawals or purchases.
References
Writer Bio
Based in Pennsylvania, Bonnie Conrad has been working as a professional freelance writer since 2003. Her work can be seen on Credit Factor, Constant Content and a number of other websites. Conrad also works full-time as a computer technician and loves to write about a number of technician topics. She studied computer technology and business administration at Harrisburg Area Community College.