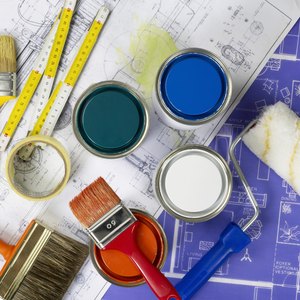 •••
flyfloor/iStock/Getty Images
For decades, the federal government has insured home loans, helping borrowers of modest means fund and fix their dwellings. The Department of Housing and Urban Development administers the Title I program, backing loans for light and moderate home repairs. Title I loans tend to have less stringent qualifying requirements than conventional home improvement loans.
Title I Loan Standards
Intended for the repair or rehabilitation of owner-occupied residences, the Title I program insures loans made by HUD-approved mortgage lenders. You can get a Title I loan if you already have a first mortgage and second mortgage. Rates vary by lender and market interest rates. Interest rates are fixed and payment terms last between 12 and 20 years, depending on the property type. Title I loans apply to both single-family and multifamily residences, but have a maximum loan limit of $25,000 for a one-unit property and up to $60,000 for multi-unit properties. Manufactured homes and historic homes may also qualify for Title I.
No Luxury Improvements Allowed
You can use Title I loans to permanently improve your home's livability and utility, but you can't use it for luxury items, such as a swimming pool, outdoor hot tub, fire and barbecue pits. You can make structural alterations, such as adding a room or finishing an attic. You may treat and repair termite damage, remodel a kitchen and bathroom, and remove defective or lead-based paint. You can also replace old or faulty plumbing and electrical systems or improve heating, ventilation and air conditioning systems. Roofing, gutters, flooring, improved handicap accessibility and energy conservation improvements are also acceptable improvements. You can also use Title I loans to install fire safety equipment and certain landscape and site improvement projects.
The Direct Way to Obtain Title I
You can obtain a Title I loan from a "direct lender" approved by HUD. A direct lender reviews the homeowner's list of project materials and their cost, approves the loan and provides the homeowners with funds to begin the project, with up to six months to complete the improvements. Homeowners begin making payments on the loan even before the work is completed. The lender inspects the renovations to ensure they are up to HUD's standards.
Dealers and Indirect Lending
You can also get a Title I loan by working with an independent building contractor or "dealer," approved to participate in the HUD program. When working with a dealer, the contractor begins the work after and application and qualifying process to determine that the homeowners qualifies for Title I. Once work is completed on the home, the homeowner and an indirect lender sign off on the property improvements and the contractor receives payment. Homeowners then begin making payments to the lender that funded the loan. HUD forewarns homeowners to beware of unscrupulous contractors.
References
Writer Bio
Karina C. Hernandez is a real estate agent in San Diego. She has covered housing and personal finance topics for multiple internet channels over the past 10 years. Karina has a B.A. in English from UCLA and has written for eHow, sfGate, the nest, Quicken, TurboTax, RE/Max, Zacks and Opposing Views.