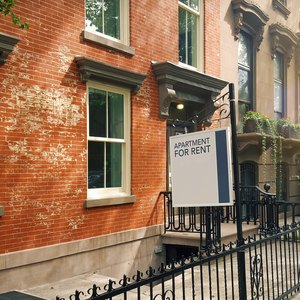 •••
Busà Photography/Moment/GettyImages
If you're looking to apply to rent an apartment, make sure you put your best foot forward when you're meeting with your potential landlord or a management company that runs your building. The apartment approval process varies from building to building, but it often involves at least a brief in-person meeting, a written application and a credit and background check before you can get that rental application approval letter. Check your credit reports before applying and have references and financial documentation handy in case you're asked for it.
Apartment Rental and Credit Checks
A common element of many rental applications today is a credit check. This will typically involve pulling your file from one of the big three credit reporting companies, namely Equifax®, TransUnion® and Experian®, as well as potentially accessing a credit score. The landlord must tell you and get your permission before running a credit check and may charge you a small fee for doing so.
You can't necessarily boost your credit score overnight, but you can keep track of how your credit is doing by periodically reviewing your credit file. You are entitled to a free copy of your report from each bureau every year, and a variety of free and paid-for credit monitoring tools can help you access your credit information more often. Check your file for errors that could impact your credit, contesting them when they pop up.
Improve your credit score by paying down balances on credit cards if you can afford to do so, since lower utilization of your available credit generally improves your score. Avoid closing accounts altogether, because the length of your credit history can influence your overall score. Generally, the higher your credit score, the more likely you are to find yourself getting approved for an apartment.
Have Your Documents Ready
Many landlords will want to see that you have money in the bank ready to pay your rent and that you have a steady income. If you're going to meet with a prospective landlord, consider bringing some financial documentation with you, such as recent pay stubs, bank statements or similar documentation depending on how you earn money.
Many landlords want a tenant who makes an annual income that's at least 40 times the monthly rent so that you have a good buffer zone. If you're not currently employed, such as if you're moving to a new city to seek work or if you're attending school, be prepared to explain to the landlord how you'll be able to cover your lease.
You may wish to black out your Social Security number, account numbers and other sensitive information on the copies of documents you give or show to your landlord.
Be Ready with References
Some landlords may ask for references that they can contact about your work history and rental history. You may be able to simply have the landlord contact your boss or your company's human resources department to verify your employment and salary, or your prospective landlord could ask you to provide more personal references or employment references.
Contact your references before giving their information to your potential landlord to ensure that they are fine with serving as references for you and will speak well of you if asked.
In some cases, you may need to provide the name of your previous landlord, if you have one, to contact about your history as a tenant. If you've ever been evicted from a previous residence or otherwise had a landlord-tenant dispute go to court, be prepared to explain it to a potential landlord, since the court file could easily show up on a background check or when your credit is run.
Remember Deposits and Fees
If you're moving into a new apartment, you'll often have to pay a security deposit to your new landlord to cover any damage that may take place during your lease. Typically you'll get the deposit back minus any charges when you move out. This should be spelled out in your lease.
Depending on the building and where it's located, you may additionally need to pay your last month's rent at the time you move in or a fee to a real estate broker if one helped you find the apartment. This is more prevalent in some areas than others. You may also need to pay an application or credit check fee.
If your credit rating isn't the greatest, a landlord might ask you to pay more of your rent up front, provided you can afford to do so. Make sure you understand the fees involved in your apartment application and rental process and that you have the money in the bank, so you're not waiting for an apartment application approval at a place you can't afford to live.
Consider a Roommate
If your salary and credit can't quite get you into the apartment of your dreams, consider splitting a larger place with a roommate or even more than one. It's usually cheaper per person to get more bedrooms than fewer, so this can be a good way to save on rent, provided you have someone you trust to move in with.
It's important that you and any potential roommate are on good terms, and that you can trust the roommate to pay his or her share of the rent. Depending on how your lease is worded, you might be responsible for paying the entire rent if your roommate moves out or simply stops paying.
If you move into an existing roommate situation or sublet from a tenant on an existing lease, it may also be easier for you to avoid a credit check altogether.
Consider Mom and Pop Landlords
If your credit or other situations are making it harder to find apartments through big management companies, there are still apartment options for you. An apartment run by an independent landlord may be more willing to waive a credit check. You can also see if someone you know might have a room available in a place that's convenient for you.
Look for advertisements in your town or city, such as on telephone poles, on buildings themselves with space available for rent and on bulletin boards in coffee shops and bars. Also take a look at online classifieds and rental listings.
Working With a Co-Signer
If you have poor credit or a low salary, you can often reassure a landlord by getting someone with a good credit score to co-sign your lease. If you fail to pay your rent, that person will generally be required to pay up, so this is really a favor you can only ask of someone you are very close with.
People often enlist parents or other older relatives as co-signers when they are getting their first apartments. This can be reassuring to landlords who might otherwise be unwilling to rent to a student or another tenant without a strong credit or rental history.
Put Your Best Foot Forward
If you're going to meet with a potential landlord, try to be impressive. Dress as you might for a job interview, arrive on time and have your documents and other supporting materials on hand and ready to go. Bring your checkbook with you in case you want to put down a deposit or pay rent on the spot.