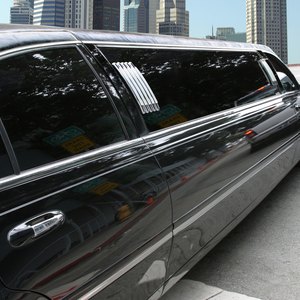 •••
egdigital/iStock/Getty Images
The average cost of limousine insurance depends on where you live, the minimum amount of limo insurance required by your state and the reason behind owning a limo. When an insurance company calculates the premium for a limo, it takes into consideration many of the same factors as auto or commercial insurance policies. Because of all the variables that make up a policy premium, it is difficult to determine the average cost of limo insurance.
Vehicle Type and Usage
The type of limo you have and your reason for owning it plays an important role in premium costs. Vehicles such as luxury sedans may be cheaper to insure than larger stretch limos, depending on the make and model of the vehicle. Purchasing a limo for personal use, business use or as a means of profit also affect rate. A 2004 article in "LTC" magazine states that it is more expensive to insure commercial limos than personal ones because they are on the road more often and are statistically more likely to be involved in a collision.
Geographic Considerations
Most states require limo owners to carry at least liability insurance. However, the minimum amount of liability insurance required differs by state. The location where you garage a limo can also affect the premium price. For example, it is generally more expensive to insure a limo garaged in a busy city than one garaged in a small rural town. Additionally, if you have a limo for business or commercial purposes, your state may require you to purchase a full-coverage policy that provides collision and comprehensive protection in the event of a loss.
Factors Regarding Operators
When insuring a limo, an insurance company takes into consideration your driving history, credit rating, age, limo training and the length of time you have had a driver's license and license to drive a limo. If you are a business owner with a limo service, an insurance company will also take note of the age of your business, the driving record of hired drivers and the training drivers receive. According to "LTC" magazine, the more miles limo drivers log, the more training they should receive.
Policy Type
In addition to liability and full-coverage policies, you also can choose between a combined single-limit policy and a split-limit policy. With a combined single-limit policy, the property damage and bodily injury coverages are combined. Split-limit policies separate bodily injury coverage and property damage coverage. The best type of policy depends on your limo insurance needs.
Limo Insurance Rates
According to "LCT," insurance rates ranged between $5,000 to $8,500 in New York in 2000. The industry has experienced annual rate hikes of up to 40 percent since then. In a 2010 industry survey, the magazine found that individuals paid a median of $638 per month on insurance for each vehicle.
Finding the Best Limo Insurance Premium
In addition to shopping for limo insurance quotes, you may benefit from the services of a limo insurance broker. Such brokers work with several insurance companies instead of representing just one. By providing the broker with the necessary information, this individual can seek out quotes from the partnering insurance companies for you and make recommendations regarding the company that would best suit your needs.
References
Writer Bio
Flora Richards-Gustafson has been writing professionally since 2003. She creates copy for websites, marketing materials and printed publications. Richards-Gustafson specializes in SEO and writing about small-business strategies, health and beauty, interior design, emergency preparedness and education. Richards-Gustafson received a Bachelor of Arts from George Fox University in 2003 and was recognized by Cambridge's "Who's Who" in 2009 as a leading woman entrepreneur.