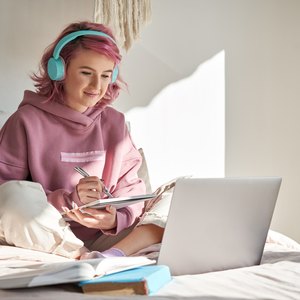 •••
insta_photos/iStock/GettyImages
Once a student has narrowed down their preferred list of colleges, it's time to begin the application process. Most colleges require the same information, but sometimes there are small differences. Students should visit each college's website or ask a high school counselor to determine a college's specific application requirements.
Application Forms
More than 900 colleges accept the Common Application form. Once a student establishes an account and designates the schools of interest, this platform provides information on deadlines and required information. In addition, the essay written in the application is shared among all schools that accept the Common Application, as is any personal information or answers to questions. Using the Common Application saves a lot of time and provides an organized framework for the college application process. Not all schools use the Common Application, though. A smaller number of colleges use the Coalition Application or the Universal Application. Students have to check with each college to see which application form they accept.
Most colleges also now prefer to receive applications online, rather than by mail. Online applications are easier for the colleges to process, and it's also easier for the student to correct mistakes.
Students should read the directions on the forms and answer all the questions with the appropriate information. Leaving questions blank can make an application incomplete and delay the process or result in a rejection.
Resumes sent along with the application should be kept to one page if possible and should not exceed two pages. Colleges have reasons for all the questions on their application forms, and once a student has answered them, it makes a better impression to keep a resume concise and to the point.
Essays
The essay is part of the application and it should give the college some insights about who the student is as a person, not necessarily a repeat of their accomplishments. It gives students the opportunity to let their personalities and voices stand out. Testing scores and transcripts are just numbers, whereas the essay is the way for a student to become a person, rather than a statistic.
Essays are usually around ​600 to 700​ words. An essay might focus on specific experiences or hobbies that reveal a student's personality. They might also be more creative in nature and speak directly to the reader. The essay is a way to present the student's strengths and insights into how they think.
Letters of Recommendation
Many colleges ask for two or three letters of recommendation from teachers or other adults who know the student. Students should begin to ask for letters of recommendation at least two months before application filing dates. It's helpful to give the recommenders a brief summary of the student's accomplishments and anything else that would highlight their personality and achievements.
Transcripts
High school transcripts are one of the most important parts of the application. The student's high school should send the transcripts directly to each college to which the student is applying.
The student's high school will also send a final transcript at the end of their senior year to show whether the student kept up their grades during the last year.
Testing
The number of colleges requiring standardized tests, such as the SAT or ACT, has been changing recently. Students will need to check with each college to find out if they still require entrance exams.
Students should begin practicing for college entrance exams during the summer before their senior year. They can take daily practice questions or hire a tutor. However, tutoring can cost ​$150​ an hour or more and run up to a few thousand dollars.
The SAT currently costs ​$55​ and that includes sending test results up to four colleges for free. There are additional charges to send more test results or rush orders. SATs are usually offered at the end of August.
The current ACT testing fee is ​$52​ with four free reports to colleges and ​$13​ for each additional report. If students are required to take the writing exam, the fee increases to ​$68.​
Interviews
If possible, it's always a good idea to schedule an interview, even if it's not required and the college is far away. An interview is a good way for the student to show their interest in a college, and, at the same time, it gives the college the ability to get a better feel for the student.
Application Deadlines
Application deadlines for regular decisions typically range from January 1 to February 1, but can be as early as November 30th at some colleges. Some colleges also have a policy, known as rolling admission, of reviewing each application as soon as they receive it instead of setting an application deadline. These colleges usually notify applicants of acceptance fairly quickly.
Students should begin making up a list of preferred colleges and checking deadlines for applications during the summer before their senior year. Since most colleges also require a personal essay, this would also be a good time to start working on it.
Students should apply to several colleges to increase their chances of being accepted. While there isn't an optimum strategy, one approach is to apply to three reach colleges to which getting accepted would be a challenge, two colleges where the student matches the average SAT or ACT freshman test scores and one safety school where the student is virtually assured of being accepted.
Students should also include at least one in-state public college because the tuition will be much lower than tuitions at out-of-state colleges.
Early Decision Deadlines
Some colleges offer students the opportunity to apply early before the normal deadlines. Early applications are usually accepted in November, and students will hear back in December.
However, early decision acceptances are typically binding. This means the student is obligated to enroll if they are accepted.
If students are also applying for financial aid, they should probably avoid early decision applications and only apply to schools with non-binding deadlines. This will give provide time to evaluate the various financing proposals from several colleges.
Application Fees
According to U.S. News, application fees range from ​$50 to $90,​ with higher-tier colleges, such as Harvard University and Stanford University, at the high end. Fees can add up when applying to multiple colleges, but some students might be eligible to have application fees waived.
Students can check each college's website to see if they offer fee waivers, or if they can apply for waivers through the Common Application form.
Financial Aid
Students should start the financial aid process by filling out the Free Application for Federal Student Aid (FAFSA). Students can complete these forms early in the fall of their senior year since FAFSA begins accepting applications on October 1. Even if a student hasn't completed the list of colleges to which they'll be applying, they can still complete and submit the FAFSA to determine their eligibility for financial aid.
All schools that award federal student aid require the submission of a FAFSA application. This includes applications for federal loans, grants and federal work-study programs. The FAFSA application can be completed online.
References
Writer Bio
James Woodruff has been a management consultant to more than 1,000 small businesses. As a senior management consultant and owner, he used his technical expertise to conduct an analysis of a company's operational, financial and business management issues. James has been writing business and finance related topics for work.chron, bizfluent.com, smallbusiness.chron.com and e-commerce websites since 2007. He graduated from Georgia Tech with a Bachelor of Mechanical Engineering and received an MBA from Columbia University.